Content View Hits : 2749104

Newsflash
All BAF members receive a 10% discount at Pro Tackle.  Check Sponsors section for location. 
Bass Anglers Federation Homepage
Written by Alan Zamora
Bass Anglers Federation By-Laws:
The Bass Anglers Federation (BAF) is a bass fishing club that is affiliated with the TBF. The Bass Federation  is a grass roots organization that is a great way to get yourself to the Forrest Wood Cup. BAF is a group of anglers that enjoy the competitive nature of fishing and the camaraderie of the other anglers in the group. This club has a good mix of competitiveness and good humor fun all mixed into one. To become a member of the club you must show interest in the club and want to participate in the events and meetings held every month. There is no probationary period for this club but you can at any time be voted out of the club for not participating or rule violations on a regular basis. This will not be a ghost club for the TBF so participation is a must.  To be in good standing with the club  you would need to fish at least 4 events through-out the year before the semi-finals are held.
Membership Dues:
Annual dues will be collected every January of the new year. BAF club dues are $30.00 plus TBF Membership which is $55 and are to be paid to the Treasurer. If dues are not collected by the February tournament then that member will not be allowed to participate and will be in bad standing with the club until the dues are paid. Club fees go towards awards for the year and permit fees for the tournaments. Any left over funds will be dispersed either in championship funds or prizes or an end of the year party. Dues are never used for personal gain.
TBF dues are $55  which $5 goes to the Nevada Bass Federation, and $50 goes to The Bass Federation for your FLW membership and TBF membership, which includes All types of benefits and discounts. These Dues need to be paid as soon as the member can get them to the one of our officers.
Meetings:
Meetings will be held on the first Thursday of every month and are currently held on Zoom via virtual, meetings will be at 6:00 pm. Although this might change in the future.
Officers:
BAF will have 4 board members, they will be President, Vice-President, Secretary, and Treasurer. The President will run the meetings, if the President is unable to attend the meetings then the next officer inline will run the meetings and so on. If there are any discrepancies with rules or rule violations the board members must meet and come to agreement on how to correct the issue. Any complaint with the club must be dealt with by the board members and their decision about the complaint is final.
New Board Members can be voted in every year in the December meeting. Term of office will be January to December. If a board position becomes vacant then BAF will hold elections at the next meeting to fill the vacancy.
Tournaments:
The club will hold 12 tournaments a year. The points season will begin in January and end in December. .

During our point tournaments an angler will be able to throw away 3 of their worst finishes.

The Points leader will be determined by their best 8 of  the 12 points tournaments.
The sites for the tournaments will be decided in the December meeting of every year. It is highly recommended that every member attend this meeting so they can vote on the dates for the upcoming fishing season.

Once the dates are set they are final. Only the Board Members may allow for a date change if an unforeseen circumstance arises.
Tournament Payouts:
Tournament payouts will be calculated on the number of boats fishing in the tournament. The layout is as follows:
1-6 boats pays 1st place only
7-12 boats pays 1st and 2nd place
13-18 boats pays 1st, 2nd and 3rd
19-and up pays 1st, 2nd, 3rd, and 4th
Tournament Points:
1st. 100 pts.
2nd. 97 pts.
3rd. 94 pts.
4th. 92 pts.
5th. 90 pts.
6th. 89 pts.
7th. On down 88, 87, 86 and so on.
Teams weighing in 0 fish will get last place points as long as they show up to the weigh in. (ex. Team 7 and 8 have 0 fish to weigh but show up to weigh in, each team gets 88 points.)
Tournament draws and fees:
The draw for tournament partners will be done at the monthly meetings. The draw will be done random by the members attending the meeting. No boater/non boater combination will fish back to back tournaments together. People at the meeting especially non-boaters will have first preference to get into the draw, then people who have phoned in or posted on the forum that they will not be able to make the meeting but want to fish. If a non boater is not selected for a boat and attends the meeting, that member will be first selected at the next tournament draw. If by chance there are not enough non-boaters, boaters may fish by themselves. NO boater may ask to be withheld from the draw. The fee for a tournament is $80 no matter if you are fishing by yourself or with a partner. $10.00 from each boat is pulled out for big fish for the tournament. $10.00 is pulled out from each boat for angler of the year prize fund. The rest of the tournament entry ($60.00) is paid out in full for the top finishers.
Non boaters are to pay their boaters gas money for each day fished. Minimum amount to be $20.00. It is the non-boaters responsibility to communicate with their boater as to how much they owe. It is on the Boaters discretion if the amount is to be over $20.00 (obviously if you make a long run the gas used will be higher therefore more gas money due) If there is an issue with gas money it is to be directed to the officers of the club and discussed to a resolution.
Any boater/non-boater no call/no show for a tournament or shows up after launch without proper notification that individual owes their partner $40.00 to be paid by the next meeting or that member will be in bad standing in the club.
Pre-fishing:
There are no off limit days for pre fishing club tournaments. You must read TBF rules for off limits for those tournaments. Only legal fishing areas are allowed for all tournaments fished in BAF, if unsure check with your local law agency for legal fishing areas.
Citations:
If a member receives a ticket on the water for any infraction, the BOATER will lose all pounds of fish and all points for that tournament, the non-boater will not be penalized for the boaters mistakes and will receive the fish weight and points and all prize money if any is won. This rule will flip flop if the non-boater is responsible for the ticket.
Life Vest:
It is the responsibility of each angler to wear a legal life vest. Under new laws the boater must wear a life vest and have the kill switch attached ANY time the big motor is under power. It is the non-boaters responsibility to have a life jacket prior to the tournament. It is not the boaters responsibility to provide a life jacket for his non-boater.
Size and Limit:
There is a 5 fish limit with a 13" length limit. All fish will be measured closed mouth and tail pinched. BAF will use an approved  measuring board and it is the anglers responsibility to make sure that their boards measure the same as the approved board. Dead fish will be penalized 2 oz. (0.12 lbs.). Short fish will be penalized 8 oz. (0.50 lb.) and loss of that fish weight. Late to weigh in will be deducted a pound per minute with a disqualification coming after a length of 15 minutes.
Big Fish of the Tournament
Fish must be Alive to be eligible, Big Fish winnings to be split 50/50 with team member of the tournament.
Tournament Director Rules (TD)
1. Member involvement, Event volunteer staff per draw.
a. Boat 1 - check in official. This is for every boat, IE all flights.
b. Last 3 boats out by the draw, Last boat is Launch boat. The other 2 are boat inspection/Live well check officials.
2. TD always in flight 1.
a. if the TD is in the 2nd flight after the draw, The TD will switch with the last boat in the first flight.
3. Event cancellation/reschedule – Unless severe weather is predicted, and particularly for us the
winds, we will go to the ramp and assess then. Winds predicted at 30 knots or more the day
prior will result in a cancellation or reschedule. All members will be notified. Per permit
guidelines, if we arrive at the ramp and there are two flags out we must cancel/reschedule. If
we go to the ramp, and wind condition has significantly deteriorated, the Club President and TD
will request inputs from members and decide on one of the two options:
a. Cancel/reschedule.
b. If practical, determine a safe time on the water and adjust check in. IE: Severe winds
forecasted to begin at 1PM, weigh in will then be 1230 and 1245 for flights 1 and two
respectfully.
4. Draws: We will conduct the initial draw during the meeting. There will be a final draw the
Thursday before the event. All BAF member boaters without a CO Angler after the initial draw,
and BAF member boaters and CO anglers requesting to fish the event, but did not make the first
draw, will be included in this draw. BAF member boaters that were in the initial draw shall retain
their boat number. After the final draw, the roster is locked EXCEPT for #5 below.
5. Boaters, after the final draw if the club was unable to get you a co-angler may request with the Club President, and must be approved by the
Club President, for a CO Angler or Guest ride along to join them for the event. The following
applies:
a. Requests for either will not be approved until after the final draw.
b. CO Angler – Defined as an individual that will fish.
i. Must be a direct family member. IE Mom, Dad, Son, Daughter, Wife, brother
sister, etc.
ii. CO Angler must join the club as a CO and pay annual dues ($85) at registration
for the event.
iii. Once approved, the TD will be notified by the President and CO will be
added to the roster. The TD will coordinate with the secretary as needed for
preparing the necessary paperwork.
6. Guest Ride Along – Defined as an individual that will not fish.
i. Guest may only assist in the launching and recovering of boat. Guest may not
fish, assist boater in landing fish, or operate the boat. Exception of course is in
the event of an emergency. Any verified disputes of this rule will result in the
boater being disqualified.
ii. No fees are required for a guest ride along however, the full event fee of $80.00
per boat still applies.
iii. Guest shall abide by all BAF safety rules such as wearing of life jacket
while big motor is running.
iv. Once approved, the TD will be notified by the President.
There will be NO alcoholic beverages until the weigh in has commenced and ALL competitors boats are out of the water and on trailers. NO EXCEPTIONS
Challenges to a Ruling
Rule challenges can be made to a club officer 30 minutes after weigh in has concluded. The board members will meet with the angler, hear the rule challenge and then make a ruling as voted on by the board members present at the tournament.
Last Updated on Saturday, 06 March 2021 10:10
Written by BAF Admin
Joining Bass Anglers is easy.  You do not need a boat to join, you will be paired with one the boaters.  Just come to one of the monthly meetings or call one of the officers listed below.  The meeting are being done Virtually using the ZOOM App. Text messages will be sent to members in advance of the meeting. Meeting ID and Passcode will be needed. Meetings are held monthly on the first Thursday of the month @ 6:00 pm.
Cameo Williams Club Secretary, 720-660-0483,  Email at This e-mail address is being protected from spambots. You need JavaScript enabled to view it
Club dues are $30 annually to fish the club tournaments. You do need to be a member of the TBF also. So Please sign up through us for the TBF as it cheaper than going through the FLW and it increases our membership for really nice raffle prizes from TBF.
Club Dues                     $30
TBF Membership:          $50 (includes FLW
Nevada Bass Federation $5
Total Membership Fees;  $85
You can join B.A.S.S. here: JOIN B.A.S.S
We have 12 tournaments per year including 11 regular season and a 2 day championship in November.  The December tournament will be a fundraiser for next years permits and club party  and first place will take home a cash prize TBD. You do not need a boat to participate. You can fish as a non-boater and will be paired up with a boat owner at the club meeting.
Last Updated on Thursday, 25 February 2021 11:40
Written by Brent Becker
BASS ANGLERS FEDERATION BASS CLUB
WHAT ARE WE ALL ABOUT?
We are about getting out on a lake and going fishing tournament style with a boater and a co. Learning new techniques and patterns from each other and having fun. Competitors with a rush of wind in our face and landing a lunker bass. Our goal or vision is to be better fisherman everytime we get on the water.
HOW TO JOIN.
Bass club membership is easy!  You must be at least 12 years old and like to fish!  We meet on the first Thursday of the month at Bass Pro Shops,  upstairs in the conservation Room at 6:30pm.  Come by and check us out.  If you decide to join and fish tournaments with us,  its only $85 annually.  You can fish one tournament with out paying the membership dues.  This is to allow you to see if it is something for you.  You don't even need a boat!  You can fish our club tournaments as a "non boater".  Contact us through our forum or call one of our officers or meet us at Bass Pro Shops the first Thursday of the month.
Jessie Ortega, President  702 300-8794 / This e-mail address is being protected from spambots. You need JavaScript enabled to view it
Cameo Williams Vice-President/Secretary  720-660-0483 / This e-mail address is being protected from spambots. You need JavaScript enabled to view it
Alan Zamora, Tresurer  702-460-9166 / This e-mail address is being protected from spambots. You need JavaScript enabled to view it
Keith Van Riel Tournament Director 702-955-2734
WHAT ELSE DO WE DO?
Our club does several youth and conservation events thought the year.  We want to give back to the sport that has given us so much enjoyment . We have helped the Nevada Department of Wildlife build fish habitat on Lake Mohave.  We do have a TBF junior Qualifier scheduled for anyone under 16 that would like to participate. Contact the TBF youth coordinator for more info.
Our club also has information of FLW events and TBF Qualifiers
Ryland Ogle, 702-350-3776 /  TBF President  / This e-mail address is being protected from spambots. You need JavaScript enabled to view it
Last Updated on Sunday, 15 August 2021 08:26
Written by BAF Admin




KVR and Jake Krause




Aaron Green  and Henryk Gryzb



Dan Partida II and Paul Rowe




Dominic Amato




Domonic Amato and Danny King



Don Hill and Walker Woodward




Don Hill



Adrian Montero Jr.




It was an awesome day on the water, a bit windy in the morning but the fish were biting.  We had 11 boats in this derby, the most all year!  Four new guys joined us on the water:  Paul Rowe, Danny King, Adrien Montero Jr. & Walker Woodward, all of which caught fish.  The weights came in real close, with 4 boats having double digit weights.  The wiley ol' vet DeeJay Evans took the win with a mix bag of 12.87.  KVR and Jake Krause came in 2nd with 11.75.  Big fish was caught by Dominic Amato, a nice 3.66LB bass.  A great success for the 5th tournament of the year.
Next up is Temple Bar on May 13th.
Last Updated on Sunday, 30 April 2017 19:24
Written by BAF Admin
Paul Hemsley---Randall Bruce
Havasu:
It was a fantastic day to get out on the water for the Club's annual trip to Lake Havasu.  The sun was bright and the wind cooperated, which provided a great weekend of fishing.   We fished 2 days with each day being its own tournament.  Day 1 concluded with Paul Helmsley and Randall Bruce bringing in a hefty bag of Large and Smallmouth Bass.  They took 1st place with 16.62.  Dominic Amato and his co-angler Matt Durham finished in 2nd place with 12.98.  Day 2 was also a sweet day to be on the water.  Paul Helmsley and Randall Bruce completed the sweep by taking home 1st place with a 15.23lb bag.
Dominic Amato---Matt Durham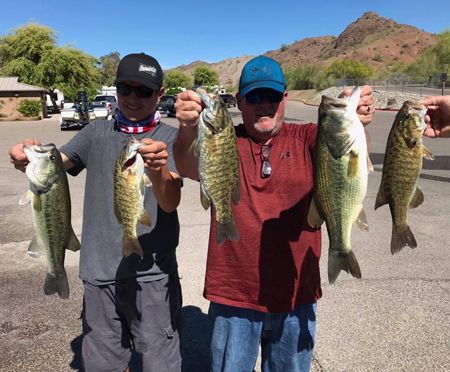 Don Hill---Corey Williamson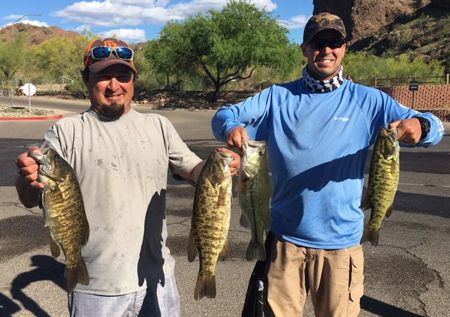 Toby Robinson---Jim Hulett
Paul Hemsley with big fish for Sunday
Overall results posted below:
Day 1:
Paul Hemsley---Randall Bruce?5 Fish?16.62?Big Fish?3.89
Dominic Amato---Matt Durham?5 Fish?12.98
Toby Robinson---Jim Hulett?5 Fish?12.76
Don Hill---Corey Williamson?5 Fish?11.81
Jesse Ortega---Vince Zamora?3 Fish?5.12
Danny Partida---Jake Krause?3 Fish?4.22
Jamey Walls---Jacob Thompson?1 Fish?2.96
Day 2:
Paul Hemsley---Randall Bruce?5 Fish?15.23?Big Fish 4.88
Toby Robinson---Jim Hulett?5 Fish?14.40
Don Hill---Corey Williamson?5 Fish?11.65
Jamey Walls---Jake Thompson?3 Fish?4.61
Danny Partida---Jake Krause?0 Fish
Danny Partida---Jake Krause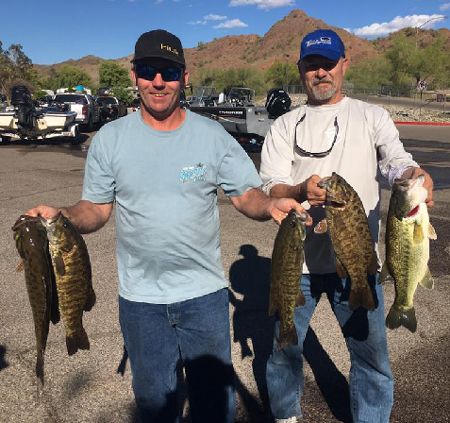 Paul Hemsley---Randall Bruce?5 Fish?16.62?Big Fish?3.89
Don Hill
Randall Bruce  Swim Bait during prefish Friday
Toby Robinson with a 7lber during prefish
Randall Sunday mourning
Don Hill---Corey Williamson?5 Fish?11.81
Don Hill
Last Updated on Thursday, 06 April 2017 16:03
Written by BAF Admin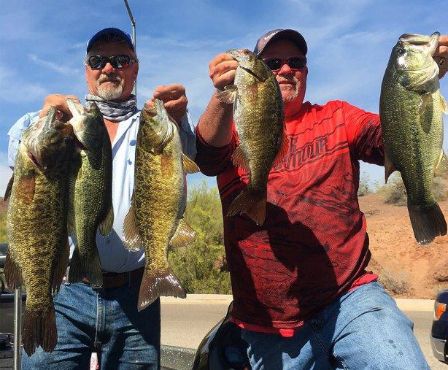 Don Hill and Randall Bruce
Our second tournament of the year was the very next day on Easter Sunday, some of us had to bail and go hide eggs but the die hard crazy fishermen stayed another night and had smooth sailing on Sunday fishing was great I was told with Don Hill and Randall Bruce taking home the first place finish with over 15 lbs!
Toby Robinson with a couple nice smallies.
Gary Freeman and Billy Snider
Ellison Hubert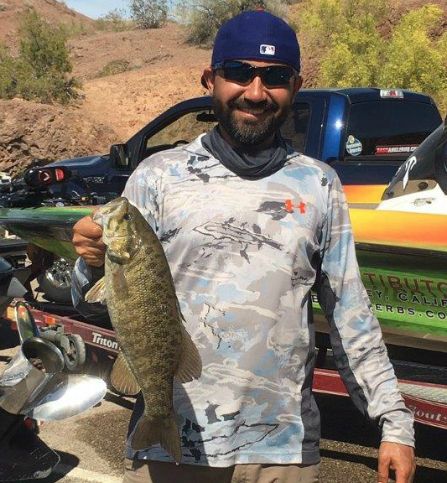 Dan Partida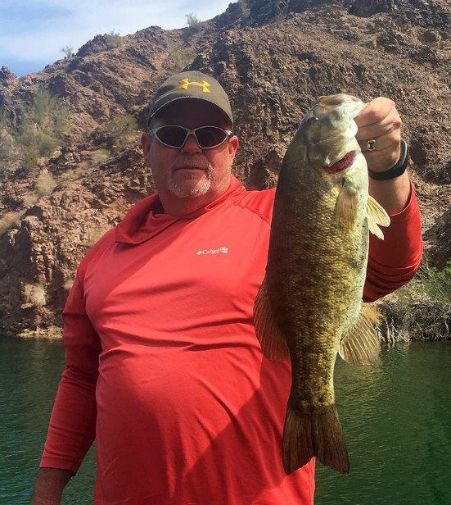 Don Hill
Lake Havasu Day 1 results.
1st Dominic and Ellison 14.10
2nd Alan and Dan 8.89
3 Randall and Don 7.94
4 Paul and Lauren 7.57
5 Toby and Mag 7.35
6 Gary and Billy 6.95
Lake Havasu Day 2 results
1st Randall and Don 15.26
2nd Dominic and Ellison 13.00
3 Toby and Mag 12.28
4 Gary and Billy 11.75
5 Paul 10.52
6 Dan 3.27
Last Updated on Sunday, 03 April 2016 14:35
Written by BAF Admin
Winners Dan Partida and Randall Bruce with 13.29lbs
Victor Cole and Deejay Evans took home second place with 10.81lbs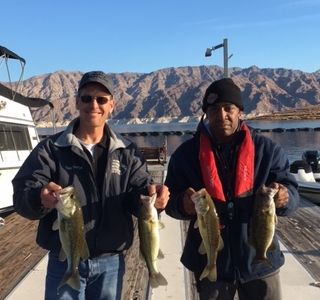 KVR and Terry Harper in third place 8.65lbs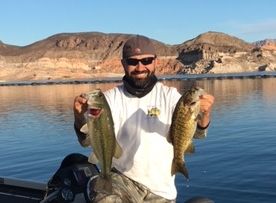 Dan Partida took big fish with a 4.43 Largemouth
Dan Partida and Randall Bruce 13.29 
Victor Cole and Deejay Evans 10.81 
Keith Van Reil and Terry Harper 8.65 
Roger Williams and Ellison Hubbard 4.57 
Alan Zamora and Junior Castillo 3.67 










Last Updated on Sunday, 20 December 2015 18:24
<<

Start

<

Prev

1

2 3 4 5 6 7 8 9 Next > End >>


Page 1 of 9