Content View Hits : 1929087

Newsflash
All BAF members receive a 10% discount at Pro Tackle.  Check Sponsors section for location. 
Bass Anglers Federation Homepage
January 11, 2014 Callville Bay, Lake Mead
Written by BAF Admin
Paul Hemsley and Matt Durham Showing off their winning fish.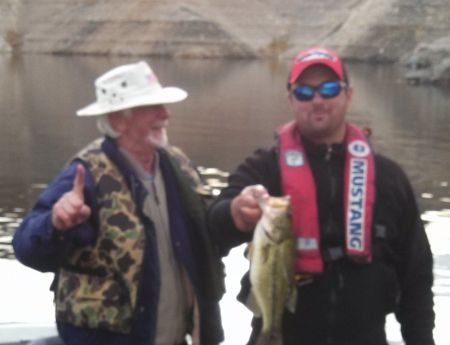 Second place Jessie Mesilivic and Henryk showing their biggest bass.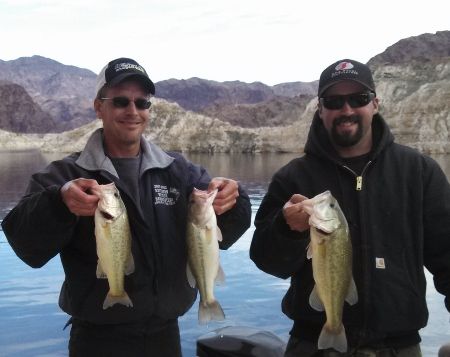 Third place KVR and James Salizar took home big fish with a 3.77lb largemouth bass
Team                     # of fish            Weight                Big fish
Paul H.  Matt D           5                  12.21                   3.54
Jessie M.  Henry         5                   11.69                   3.43
KVR     James             5                   10.32                   3.77
Toby R.    Anthony      1                   2.79
Jerren   Steve             DNW
Alan     Vincent           DNW
Congratulations to Paul H. and Matt D on the Victory!!!!!!
Last Updated on Sunday, 12 January 2014 12:54
December, 21, 2013 Calville Bay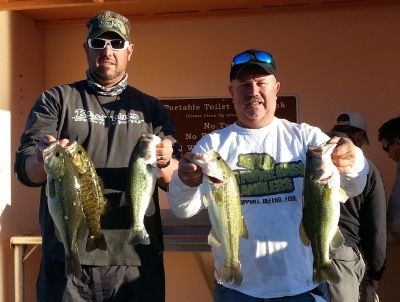 December weather forced BAF to push their scheduled tournament date from the 14th to the 21st.  Ask any of the 15 people that braved a winter day on Lake Mead and they will tell you, you just couldn't ask for a better day in December.  8 teams launched at safe light in hopes of bringing 5 fish to the scales.  In the end, the team of Gary Freeman and Deejay Evans bested the field with 5 fish for over 11 lbs.  In second place, Keith and Larry had 5 fish for over 10 lbs.  Keith's big fish of the tournament at 3.79 lbs was greatly contested.  There were 4 other big fish weighed within 1/10ths off the bar set by Keith.  It was probably the closest contest all year.  In 3rd place, Paul and Zach managed a 3 fish bag for 7.98 beating out Alan and son, Vincent, who had 5 fish for 6.48 lbs.  Don brought his wife, Becky, to put the ixnay on Doug Jones' dream of a respectable return.  Becky brought 2 bass to the scales for 5+ lbs.  Doug's 3 fish for 4.8lbs didn't cut the mustard.  Humberto and partner, Ellison, had some mechanical problems during the day.  Ellison was lucky enough to flag down Gary and Deejay to hitch a ride to weigh in his 1 fish that came close to knocking KVR off the top of the podium.  In the end, we almost had to beg president elect, Toby, to weigh in his single fish.  His partner Jim Shorts warned it was small but, hey, who's keeping score?  If this tournament was for points, that fish would've been bump boarded and maybe even dissected.  A 12 and 3/4 inch fish just doesn't weigh 1.6 lbs.  We counted it, no one blanked, and that's a wrap on 2013.  Good luck to everyone in 2014.
1.  Gary Freeman and Deejay Evans      5 fish          11.41lbs.
2.  Keith VanRiel and Larry Holona        5 fish          10.22lbs.     BIG FISH 3.79lbs.
3.  Paul Hemsley and Zach Holt            3 fish          7.98lbs.
4.  Alan Zamora and Vincent Zamora     5 fish          6.48lbs
5.  Don Hill and Becky Hill                     2 fish          5.55lbs
6.  Doug Jones                                  3 fish          4.80lbs
7.  Humberto and Ellison Hubbard         1 fish          3.74lbs
8.  Toby Robinson and James Cope       1 fsh          1.60lbs
Last Updated on Monday, 13 January 2014 19:28
Temple Bar September 21, 2013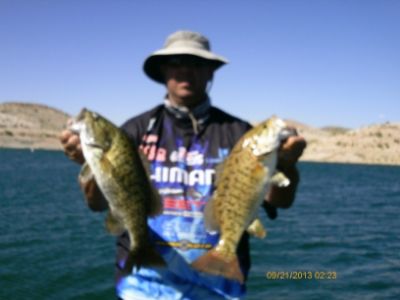 Bass Angler's Federation launch out of Temple Bar this weekend kicked off without a hitch.  The return back for weigh-in was a different matter, all together.  There was much anticipation for a few anglers in our seasons final points tourney of the year.  Those not in contention had something else on their mind.  Wind!  A wind advisory cautioned 40-50 mph gusts which got all the chatter going on the forum.  It was settled that a decision would be made on the ramp.  All 11 boats showed up ready to fish, so it was on!  A majority of the the boats went right with just a few headed left.  At the end of it all, 2 boats were hurt during the day.  Jim Shorts sheared a blade off his prop.  Luckily, KVR stopped to help and ended up giving his partner, Luke, and their 5 fish a ride back to weigh-in.  It was a good thing, too.  Luke ended up with big fish of the day with a 3.83 largemouth!  Paul Hemsley's boat went in the safe-mode as they made their way back.  Showing up 30 minutes late nullified their 5 fish limit.  The penalty is one pound per minute and a disqualification after 15 minutes.  Tough break, boys.  It's hard to say if wind was a factor in either of these incidents because the wind never got as nasty as predicted until after everyone was safely off the water.  This was the final points tournament for Angler of the Year.  Keith Van Riel had a 12 point lead on Gary Freeman and finished in 6th place to win AOY by 15 points.  Congrats to Keith, your 2013 Angler of the Year on the boaters side.  On the Co Angler side, Larry Holona started the day with a 7 point lead with Deejay Evans right on his heels.  The way the last few tournaments ended, its was sure to be a super close finish.  Deejay did exactly what needed to be done to take the AOY honors.  According to his partner for the day, Tim Myers, Deejay caught all the fish they brought to the scales.  With 10.18lbs total, including a solid 3.42 big fish, Tim and Deejay bested a field of 11 teams to take the overall win.  That gave him a come from behind win by 4 points for AOY.  Congrats, Godfather!  Here's how it all panned out.
Team                                         Big Fish     Total Fish          Total Weight
1. Tim Myers and Deejay Evans           3.42           5                       10.18
2. Humberto and Ellison Hubbard                         5                       8.84
3. James Cope and Luke Vierkant (BF)  3.83           5                       8.46
4. Don Hill and Dominic Amato                            5                       8.22
5. Ray Coble and Rick Pfeiffer                              5                       6.80
6. Keith Van Riel and Randall Bruce                      4                       6.49
7. Toby Robinson and Zach Holt                          5                       6.45
8. Paul Holt and Kevin Aiken                               3                       4.37
9. Gary Freeman and Larry Holona                       3                        4.29
10. Alan Zamora and Dallas                                 2                        4.25
11. Paul Hemsley and Todd Cowan                       DNW
Last Updated on Tuesday, 01 October 2013 01:50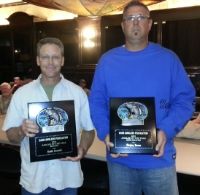 Your 2013 B.A.F. Angler of the Year Boater is Keith "KVR" VanRiel.  Keith started the season off with a bang in January with a 1st place finish plus big fish at 5.15lbs.  Before the points season started, Keith had an impressive December big fish for 6.14lbs and him and his partner won the event with an astounding 15.08 lbs.  Prior to these two consecutive wins, Keith had parked his boat for over 10 months!  In a best 7 out of 9 format, Keith managed 1 win and 5 top 5 finishes.  That's a solid performance, Keith, and we all congratulate you.
Your 2013 B.A.F. Angler of the Year on the non-boater side is Deejay "The Godfather" Evans.  Deejay had a pretty stellar year from the back of the boat.  He missed the January tournament, so, that's one throw away.  Deejay started his year off in February with a 2nd place finish and followed that with another 2nd place finish.  Starting the year of with a DNF really sucks.  Unless your worst finish out of the 8 remaining tournaments is 9th.  The Godfather put on a come from behind show.  He had 2 wins, 3 second place finishes, a 3rd and a 6th (not exactly in that order).  In June, Deejay had big fish with a 5.02 on Mohave.  Congratulations, Deejay, on a great season.
Big Fish of the year honors go to Brent "Bubba" Becker.  Brent caught a nice largemouth on Lake Mohave that weighed in at 7.57lbs one month after the bar was set by Rick Powers at Temple Bar.  Rick's big fish was 7.44lbs.  Sorry 'bout your luck, Rick!
The biggest weight of the 2013 season was 20.16lbs caught by Bubba Becker and Matt Durham in April at Lake Mohave.
A special thanks to Pam and Rick Powers of Blue Ribbon Trophies.  Thank you for your continued support.  When we fish, we don't expect to quit our jobs if we take the purse.  The plaques and trophies make us feel like we all could, though.  Thank you.
Congrats to all.  It was a fun and safe season.  January 2014 is right around the corner.
Echo Bay, August 10, 2013
The Bass Angler's Federation launched 12 boats from the low water level ramp at safe light without delay.  Although everyone was excited to get out and fish, the anticipation was great for those in the points chase for Anglers of the Year.  A majority of the boats turned right and headed south, and just a few boats went north.  It really didn't matter which direction you went.  We were all in store for a tough, tough day.  Of course, it was hot.  The slight wind blowing south was a bit of comfort until it all together stopped for awhile but then changed direction and blew north.  8 teams weighed in 5 fish limits and all the dock talk was about the abundance of "just under 13 inch fish".  It sounds like a lot of teams caught 'em early.  As we all know, there's a worry about catching keepers early in this August heat.  Especially smallies.  So, for the first time this year, we had to asses dead fish penalties.  None of these penalties changed the outcome.  If anything, it made the contest look a little closer than is really was between 1st and 2nd.  Congratulations to Don Hill and Billy Snyder.  It's been a long time coming for Mr. Don Hill!  I doubt that I'm the only one saying that if we can't win, I'd rather be beat by team Don Hill.  It's my opinion that this was the best possible outcome.  We don't see him as much anymore.  Work and life happens to us all, but I hope this win will give Don the motivation to call in sick on club tournament days.  This is how it went.
Don Hill and Billy Snyder holding 4 live ones to take the win!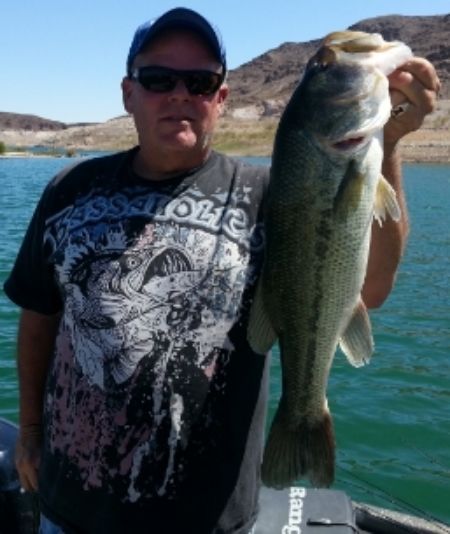 1.  Don Hill / Billy Snyder               5        4.84  BF   11.07        1 dead  (-0.12)  total = 10.83
2. Tim Myers / Larry Holona            5        4.82        10.62
3. Alan Zamora / The Godfather      5        3.79        10.17
4. KVR / Matt Durham                   5         3.08        9.50
5. Jim Shorts / Zach H.                 5                        8.13
6. Ray Coble / Kevin V.                 5         3.58         7.88
7. Paul Hemsley / Randall B.          5                        6.65        2 dead (-.024)  total =  6.41
8. Paul Holt / Ellison H.                5                        6.26
9. Gary Freeman / Luke V.             4                        5.91
10. Humberto                              3                         4.69
11. Jason Randall                         2                         3.60
12. Matt Warner / Rick P.                                         DNW
Top 5 AOY points after Aug. 10
Boater
KVR = 570
Gary = 558
Paul Hemsley = 554
Toby = 549
Jim Shorts = 535
Non-Boater
Larry = 581
The Godfather = 574
Matt Durham = 561
Ellison = 550
Randall = 548
Going in to the final points tournament for the year, Keith has a nice lead.  12 points isn't exactly running away with it when Gary and Paul are up against ya.
On the Non-boater side, Larry is just keeping ahead of Deejay.  This looks like a race to the finish.  We'll see ya'll September 21 at Temple Bar!
Last Updated on Tuesday, 20 August 2013 18:04
Nevada JR State Championships
Written by BAF Admin
Congratulations to Vincent Zamora for taking the Overall win at the Nevada JR State Championships.
Nevada B.A.S.S. Federation held the Nevada JR State Championships on Saturday July 20. Ten kids in two age group launched from Callville Bay Marina to decide the Nevada JR representatives for the 2014 Nevada State team.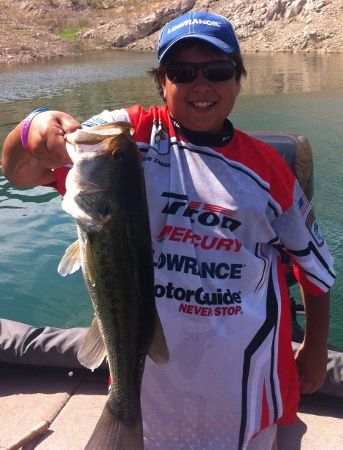 Vincent caught this 4.47lber on a frog with 6lb test line. WOW.....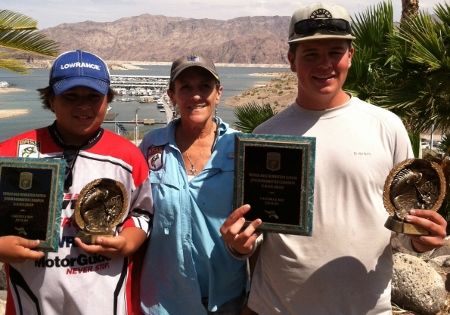 Vincent Zamora, 11-14 yr, and 15 to 18 yr winner Gunner Stanton will represent Nevada at the 2014 Western Divisional in Montana.
Last Updated on Friday, 26 July 2013 14:55
July 20, 2013 Callville Bay, Lake Mead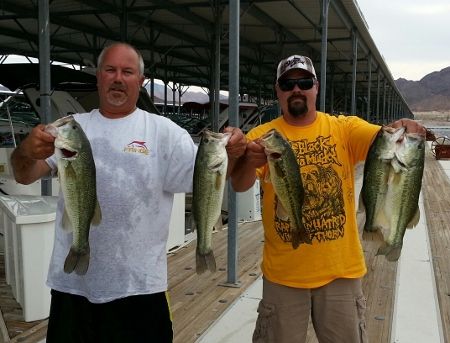 The Freeman Bros with 13.10lbs.  You were warned!
With a summer storm looming, the Bass Angler's Federation launched out of Callville Bay at 7pm for the annual club night tournament.  It was a serene setting with storm clouds moving in from all sides of the lake and fishing was good for most just before dark and again before sunrise.  As it turned out, Lake Mead was the eye of the storm.  Angler's were treated with an awesome light show and skirted the impending thunderstorms, but had to contend with wind and blowing sand.  Thanks to Doug Jones and Jim Shorts for the phone calls and text messages warning of the storm pattern.  If you listen to all the dock talk, most teams stuck it out in the lower basin.  I only heard of one team that went beyond the narrows, and they got pinned by the wind.  However, 8 boats launched and 9 boats returned to weigh in unscathed, each with fish to weigh.  That's not a typo.  Mr. Paul Hemsley (boat 9) had to work and came out to participate.  And by participate, I mean WEDGE himself in to take big fish honors.  Paul weighed in a nice 6.21lb largemouth, and with only 3 fish, his total was 10.07lbs.  Way to go, Paul!  The points race for AOY is heating up and all the contenders are doing what they can to stay in contention.  On the boater side, Keith (a.k.a. KVR) finished 2nd and is holding on to a 7 point lead.  Gary Freeman is the big mover and shaker this tournament.  Finishing in 1st, Gary jumped from 6th place to 2nd.  Paul Hemsley is 12 points out of first, but with big fish capabilities, he could WEDGE himself in, again.  On the non-boater side, Larry Holona is trying to put distance between him and the Godfather, Deejay Evans.  Larry thought his efforts to finish 1st would be enough for a cushion, but Deejay came through with a 2nd place finish to keep the race close.  Matt Durham is only 15 points out of 1st and has had a few good runs to stay in the heat.  With only 2 points tournaments left, it's anyone's championship.  Here's how it all turned out on Saturday.
Paul "The Wedge" Hemsley and Big Fish.  A solid 6.21lb largie!
Team                                               # Fish       Total          Big Fish
1. Gary Freeman / Larry H.                              5          13.10
2. KVR / Deejay (the Godfather)                     5           11.38          4.44
3. Bubba Becker / Luke "Skywalker"                 5           11.10          3.64
4. Toby Robinson / Randall "The" Bruce            5           10.15          3.26
5. Paul "Hemlock" Hemsley                              3           10.07          6.21  BF
6. Rob Jeanotte / Ellison Hubbard                    5             9.27
7. Dave Hudson / Henryik " Grubs"                   4             6.57
8. Tim Meyers / "The Kid" Zach Holt                3              6.28
9. "The Other Paul" Holt / Kevin "VanDammit"   1             3.25
Last Updated on Wednesday, 24 July 2013 18:34
<< Start < Prev 1 2

3

4 5 6 7 8 9 Next > End >>


Page 3 of 9