Content View Hits : 2803555

Newsflash
All BAF members receive a 10% discount at Pro Tackle.  Check Sponsors section for location. 
Bass Anglers Federation Homepage
February 20, 2010 Cottonwood cove, Lake Mohave
Written by BAF Admin
Lake Mohave is world renowned for its wind and giant waves.  Anglers were not let down for this months tournament.  The wind blew 20-30 mph all day making 5-6ft white caps on parts of the lake. The clouds let loose for the first 30min getting everyone a little wet.  After the rain stopped it was mostly cloudy with small periods of sunshine.  The launch area was crowded with 3 tournament going out  of Cottonwood Cove.   BAF was the first to launch and everyone made their move.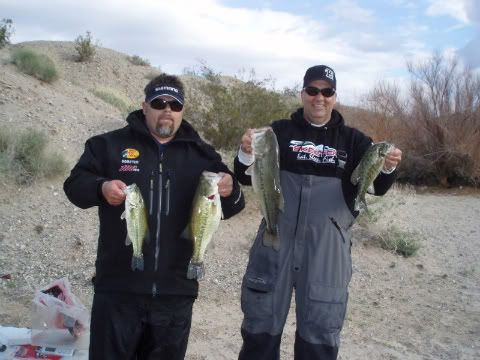 In the end it was a tough day with Brent Becker and Tony Velasco coming out on top.  Brent and Tony brought 4 fish @ 11.75lbs to the scales with a 5.16lb kicker.   Second was Paul Hemsley and Joe Raftrey also with 4 fish @ 9.03lbs, big fish of 3.22lbs.  Rounding out the last step on the podium was Gary Freeman and Paul G. weighing 2 nice fish @  6.37lbs, second place big fish of 3.72.
Congratulations to Brent Becker and Tony Velasco for sweeping the tournament and big fish.
Brent Becker and Tony Velasco              4 fish   11.75lbs     1st  BF  5.19lbs

Paul Hemsley and Joe Raftery                 4 fish     9.03lbs           BF  3.22lbs

Gary Freeman and Paul G.                      2 fish     6.37lbs     2nd BF  3.72lbs

Ben Grande and Aaron Greene               3 fish     5.09lbs            BF  2.76lbs

Don Hill and Troy Munnich                      1 fish     2.74lbs

Deejay Evans and Tom Martin                 1 fish     2.33lbs

Aaron Leon and Fernando                      0 fish

Richard Powers and Rick Powers              0 fish

Billy and Curtiss                                      0 fish
Click this link for more photos.  http://www.bassanglersfederation.com/hp_joomla_15/index.php?option=com_phocagallery&view=category&id=4:bass-fishing-nevada&Itemid=57
Last Updated on Sunday, 25 September 2011 10:07
January 9, 2010 Callville Bay, Lake Mead results
Written by BAF Admin
January 9, 2010 Calville Bay tournament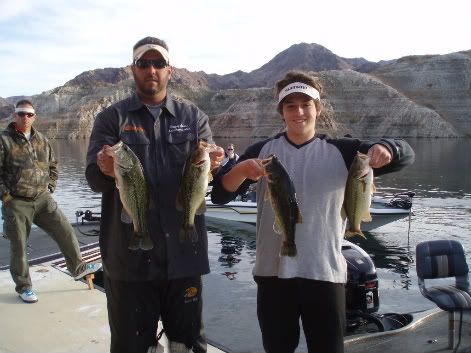 Congratulations to Deejay and Aaron for their win in the January tournament.  The next meeting is on February 4th 6:30pm at Cariba Charlies, 4835 S Rainbow Blvd.  Next tournament is on February 20th and will be out of Cottonwood Cove,  Lake Mohave.
We had a great turn out for the first tournament of the year.  Everyone was treated to perfect weather with little to no wind all day.  We had seven boats compete and everyone weighed fish.  Deejay and Aaron won with a big bag of 12.21lbs.  Big fish was close between Tony and Deejay just winning by 3/8 of an oz. with a 3lb 1.8oz largemouth.  Second place money went to Brent and Fernando with a weight of 9.42lbs.
1st Deejay and Aaron      5 fish       12.21lbs.    big fish 3lbs 1.8oz

2nd Brent and Fernando   5 fish        9.42lbs      big fish 2.8lbs

3rd Gary and Tony          4 fish        8.46lbs.     big fish 3lbs 1.4oz

4th Joe and Quinn          4 fish         6.98lbs      big fish 2lbs 10oz.

5th Paul and Tom           2 fish         2.1lbs.

6th Don and John           1 fish         1.51lbs.
7th Jim and Billy             1 fish         1.46lbs. 


Last Updated on Sunday, 02 May 2010 17:01
Written by BAF Admin
The "Sportsman of the Year" award was introduced this year in recognition of achievements within the club.
Point values are given for participation in all events the club has.
Point values are as follows:
5 points for attending meetings, club authorized youth events and conservation events.
2 points for tournament show (even if the non boater did not fish but was in the draw)
5 points for tournament win, 4 points for 2nd (with fish), 3 points for 3rd (with fish)
2 points for 4th (with fish), and 1 point for 5th place on(with fish)
5 points per season for officers, 2 points per season for administrative positions
5 points for making Nevada State Team, 5 points for advancing to Federation Championship
5 points for Angler of the Year, and 5 points for Club Championship win
5 points for "Sportsman's Bonus", (voted on by the club for outstanding club related achievements)
Here are the top 4 still in contention.
Brent 101 
Paul H 99 
Don H  99 
Tony  90 




Last Updated on Monday, 13 September 2010 18:06
2010 AOY POINTS STANDINGS
Written by BAF Admin
HERE ARE THE TOP TEN YEAR END POINT TOTALS AS OF SEPTEMBER 11,  2010 AFTER THE 9TH AND FINAL ROUND.  POINT TOTALS HAVE 2 THROW OUT ROUNDS REMOVED.

CONGRATULATIONS TO BRENT BECKER FOR WINNING THE BOATER AOY AND TONY VELASCO FOR REPEAT NON-BOATER AOY TITLES.
Rank        Boater  Total         Points

1              Brent Becker          684

2              Don Hill                 658

3              Gary Freeman       655

4              Paul Hemsley        647       

5              Billy Snyder           613
TH
6              Deejay Evans        566

7              Greg Cyphers         461

8              Sam Shiers             457

9              Joe Raftrey             454

10           Richard Powers       343

   

Rank         Non-Boater          Total Points

1              Tony Velasco             676

2              Paul Genet                 544

3              Alan Zamora              460

4              Bob Keck                   441

5              Jon Whisenant          438

6              Randell Bruce            378

7              Curtiss Easter           371

8              Arron Greene            357

9              Troy Munnich             354

10            Tom Martin                269
  
Last Updated on Thursday, 16 September 2010 10:43
Written by BAF Admin
The 2016 tournament schedule is as follows:
February 8   Cottonwood Cove,  Lake Mohave
March 26-27    Cattail Cove Lake Havasu (Two separate tournaments)
April  30  Boulder Harbor, Lake Mead
May 22   Echo Bay ,  Lake Mead
June 18    Cottonwood Cove,  Lake Mohave
July  23    site TBl
August    TBA
September   TBA
October     TBA
November    TBA
December      TBA
<< Start < Prev 1 2 3 4 5 6 7 8

9

Next

>

End

>>


Page 9 of 9