Content View Hits : 2728732

Newsflash
Thanks Adaven Custom Rods.  Greg Cyphers of Adaven Rods can repair you broken rod guides and service and repair any of your reels.  Greg does quality work with a fast turn around give him a call 702-371-4922
Bass Anglers Federation Homepage
Written by BAF Admin
MATT DURHAM BIG FISH WINNER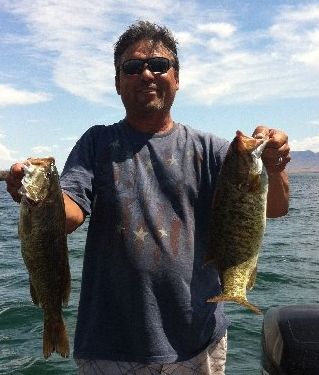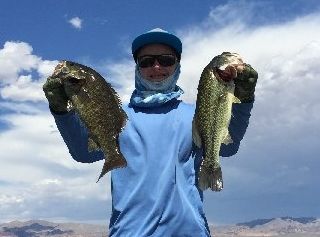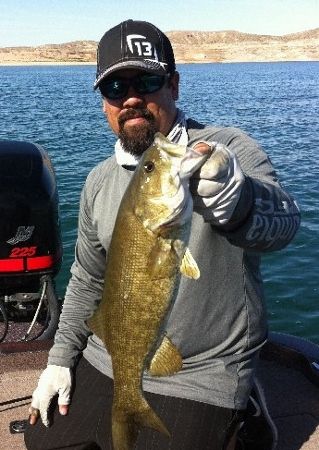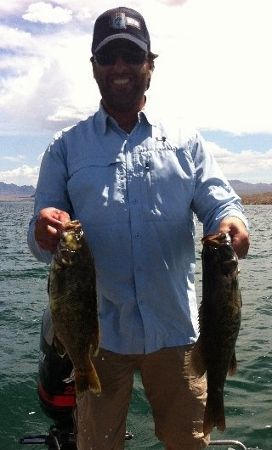 Well it was a very nice morning when we launched out of Cottonwood Cove for the Annual Club Challenge. We had 5 boats and 5 co anglers . The teams were very excited to get out on the water and start fishing. All the teams for our club did very well and almost pulled off the victory, but we did lose to nevada bass anglers by 6lbs! that's 1 good fish at mojave. We did beat Las vegas Bass club for some conselation. All in all it was a great day for BAF with Scott and Junior coming out on top with almost 15 lbs. Alan and Matt took 2nd losing by ounces. Hopefully we will here all about everybodys day at the next club meeting on the 2nd of July. The young fellow is Dakota Raftery, I would really like to thank Joe and Dakota for coming out to fish with us.
Our club weights and places.
1. Scott and Junior       Big fish  3.74  weight 14.54  1 df
2. Alan and Matt           Big fish  3.25  weight  14.40  1 df
3 Joe Raftery and Son   Big fish 3.11   weight 13.82
4. Gary and Randell       Big fish   3.15 weight  13.34
Billy and Sammie           Big Fish 2.74  weight   9.99  1 df
Last Updated on Sunday, 21 June 2015 19:12
BASS ANGLERS FEDERATION MAY 2015 TOURNAMENT
Written by BAF Admin
Congratulations Gary Freeman and Sam Shiers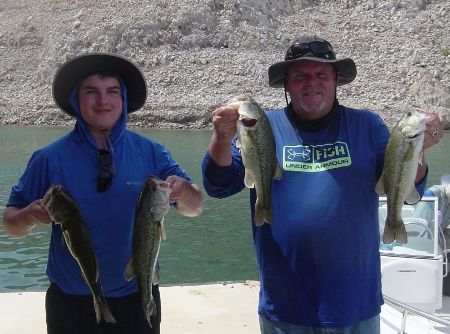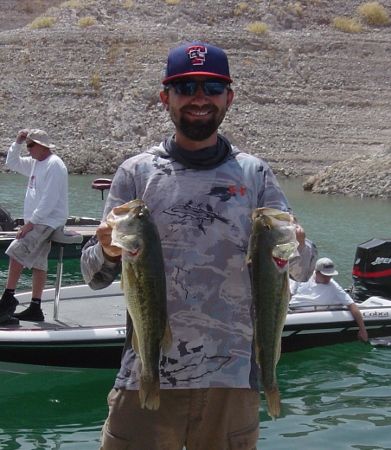 May 30th results
1st Gary and Sam.              11.97
2nd Dan and Jim.               11.79.       Big fish.  3.97
3rd Don and Joel.               11.77
4th Frank and Steve.          11.11
5th Matt and Deejay.          10.67
6th Alan and Junior.           10.50
7th Roger and Terry.             9.02
8th Scott and Randall.          8.64
9th Billy.                                  6.64
Last Updated on Saturday, 06 June 2015 18:39
APRIL 25, 2015 TOURNAMENT RESULTS
Written by BAF Admin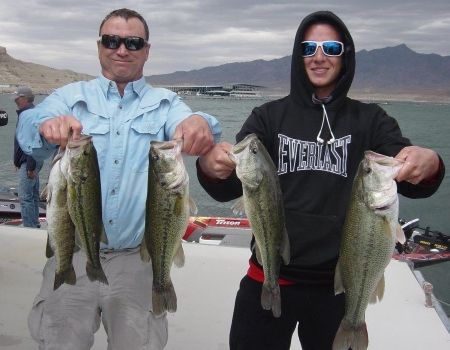 Roger Williams and Zach Holt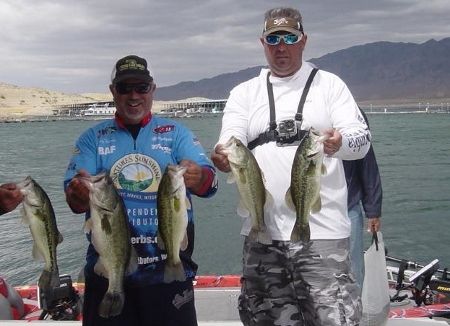 Gary Freeman and Deejay Evans
Alan Zamora and Randall Bruce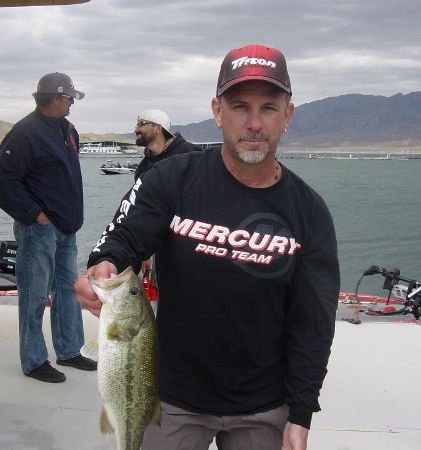 Victor Cole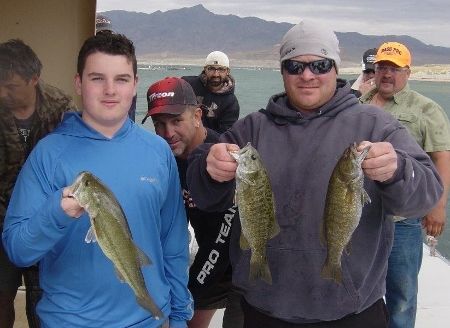 Matt Warner andJoel Houck
It started off super nice at the take off then around 10 or so the wind came up around Temple Bar.  Alan and Randall hung pretty close to the launch but the winners Roger Williams and Zach Holt said they made a brutal run to Echo Bay where Zach bagged their kicker fish to win the derby with 14.99.
Very exciting weigh in with Gary and Deejay bringing a  huge fish 5.66 and having over 14 pounds. Victor Cole was 3rd with a very nice sack. It was a great day at Lake Mead, all the anglers brought fish to the weigh in.
Congratulations to Roger Williams and Zach Holt for the tournament win and Gary Freeman for winning big fish
PLACE          TEAM                                TOTAL WEIGHT      BIG FISH
1. Roger Williams/Zack Holt -         14.99
2. Gary Freeman/Deejay Evans-      14.28           big fish winner  5.66
3. Victor Cole-                            12.42
4. Alan Zamora/Randall Bruce-       11.15
5. Bryan Diehm/Jim Hugette-         10.56
6. Scott Saltz/Junior Castillo-           8.75
7. Billy Snyder/Henryk Grzyb-         6.37
8. Dan Partida/Lauren Storla-        6.34
9. Matt Warner/Joel Houck-          5.13
Last Updated on Saturday, 09 May 2015 15:52
Written by BAF Admin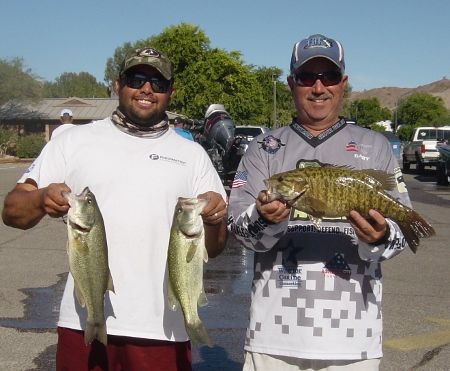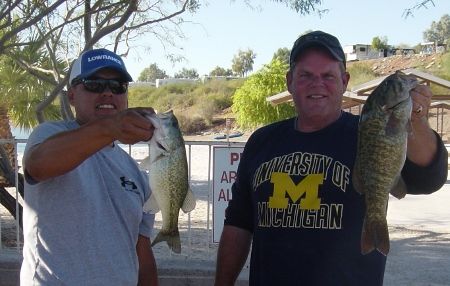 Day 1
Nov 8-9 we held our Club Championship at Lake havasu. You could not have asked for better weather, low of 65 and a high of over 80! The only drawback was they had dropped the lake about 3-4 feet and some areas were not accessible. With a 4 boat field (we really need to get more people there)! We launched a little late day one but everyone got out and it was game on.  Don and Ellison came out of the gate in front for the first day with a nice 3.83 smallmouth and a 5 fish limit of 8.45 pounds, Gary and Calvin were right behind with the big fish the first day of 4.50 and a 3 fish weight of 6.71. Paul Hemsley was in third with 2 fish with his big fish of 3.89 and a total weight of 4.97 and Toby and Randall  Bruce with 2 fish at 4.13.
Day 2
After we synchronized our watches we all launched as the sun was coming up this time and again the weather was awesome! The bite was a bit tougher the second day with at least three tournaments going on over the weekend. The top water bite was a little slow but came through for a few boats! At the end of the day Gary and Calvin came in with a nice sack of 9.35 for a 2 day total 16.06. Don and Ellison came in with 5.35 for a total weight of 13.80, Toby and Randall had 5.03 and Paul had a rough day with 1 fish but did not weigh in.
All in all it was a fun weekend with the traditional p@ker game that Randall and Toby went to wire with Randall taking home the win! Fun time had by all with everyone stating that they can't wait for the spring 2 dayer at Lake Havasu.
Club Champion – Gary Freeman    Co-Angler Champion –Calvin Jones    16.06 and Big Fish for the weekend 4.50
2. Don Hill    Ellison Hubbard - 13.80
3. Toby Roby Robinson  Randall Bruce – 9.16
4. Paul Hemsley – 4.97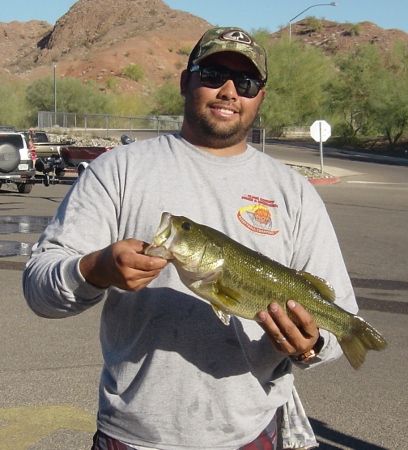 Last Updated on Monday, 10 November 2014 16:26
August 16, 2014 Cottonwood Cove, Lake Mohave
Written by BAF Admin
Bib Fish Winner Toby Robinson 4.62lb Smallmouth Bass
Second Place Finishers Domanic Amato and James Salizar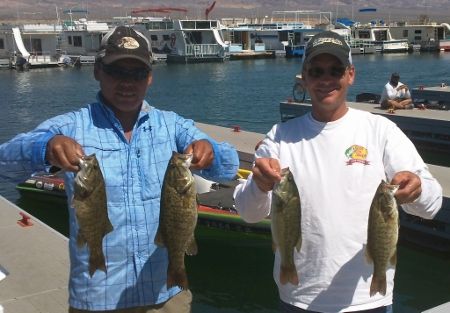 KVR and Ellison Hubbard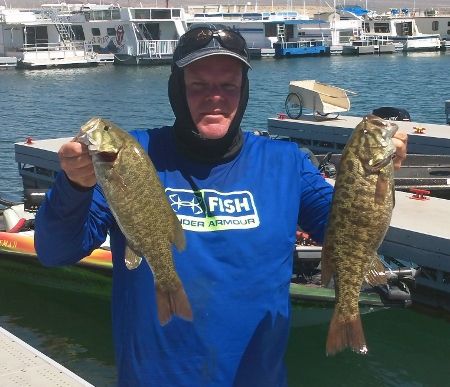 Don Hill with two nice Smallies
Congratulation to Jerren Slaton and Calvin Johnson for taking the win
big fish winner was Toby Robinson  4.62lb smallmouth bass.
1st Jerren Slayton /Calvin Jones               14.82
2nd Dominic Amato /James Salizar              12.74
3rd Paul Hemsley /Matt Durham                       12.10
4th Chris Irigoyen /Larry Holona                    11.66
5th Don Hill /Randall Bruce                   9.95
6th Gary Freeman /Deejay Evans                  9.35
7th Toby Robinson /Billy Snyder                      9.07
8th Keith VanRiel /Ellison Hubbard                     8.46
9th Angel Morino /Tamara Marino                5.82
10th Alan Zomora  /Anthony Salizar               4.49
Last Updated on Monday, 25 August 2014 17:07
Calville Night Tourney, 2014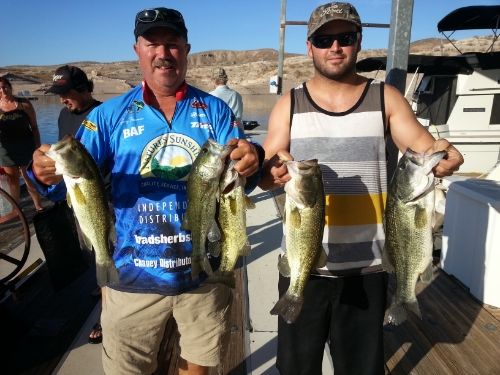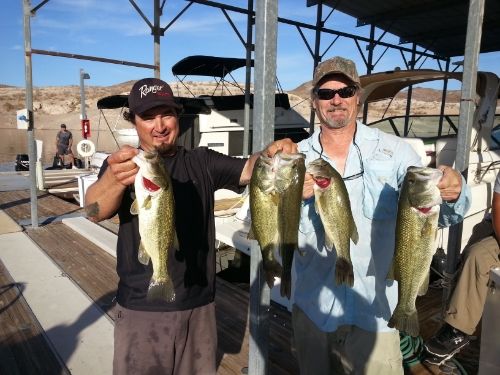 It was a great night on the lake for the Bass Anglers Federation.  Seven teams launched for the clubs annual night tournament and everyone weighed fish.  Toby and Randall stayed on the lake this year and finished 3rd, weighing five fish for 11.47 with a 4.10lb contender for big fish.  KVR and Calvin came in with a solid limit of 12.21lbs to take 2nd place.  In 1st place, bringing in 13.90lbs, is Gary and Anthony.  As I heard it, the tourney was won at dawn.  Anthony stuck a couple of solid keepers just before sunrise to put em over that included big fish weighing 4.60lbs.  Congrats to Gary and Anthony.  The both of these guys needed a win to keep em in contention for Angler of the Year.  The end of the points season is fast upon us and the dock talk has shifted from how and where you caught em to "how much weight you got?".  Toby and Paul are tied up on the boaters side with 468 points, KVR is right there with 467 points, and Gary makes it tough with 466 points.  On the non-boater side, Ellison leads the pack with 481 points.  Anthony trails by 9 points and Matt is just 17 points behind Ellison.  Keep the excitement up, guys!  Here's the breakdown of our night tourney.
Team # of fish BF TOTAL
1. Gary Freeman and Anthony Salazar        5        4.60        13.90
2. Keith Van Riel and Calvin Jones             5         3.57        12.21
3. Toby Robinson and Randall Bruce          5        4.10         11.47
4. Paul Hemsley and Ellison Hubbard          5                        9.82
5. Jerren Slaton and Larry Holona              5                       9.47
6. Alan Zamora and Terry Harper               5                       8.22
7. Angel Moreno and Tamara Moreno         1                       2.22
Last Updated on Monday, 25 August 2014 17:19
MAY 10, 2014 BOULDER HARBOR, LAKE MEAD
Written by BAF Admin
Ellison Hubbert showing off the winning big fish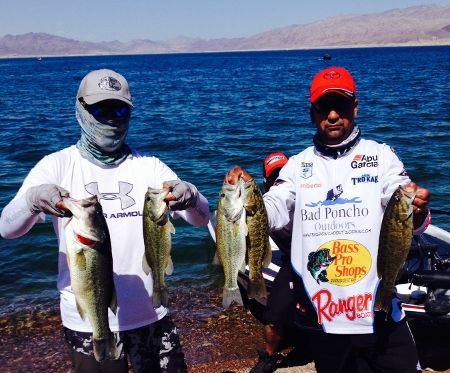 Humberto and Ellison take the win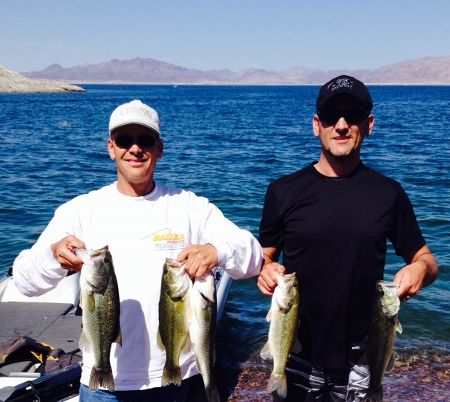 Kieth Van Reil and rob Jonnette take second
Place           # Of Fish      Big Fish       Total Weight                         Boater                 Non Boater
1st                 5                5.61          12.53                                Humberto              Ellison H.
2nd                5                3.89          12.42                                 KVR                      Rob J.
3rd                5                 DNW         11.45                                 Gary F                   Anthony S.
4th                5                 3.65          10.65                                 Don H.                  Matt D.
5th                5                 DNW         10.20                                 Toby R.                 Calvin J.
6th                5                 DNW          9.79                                  Paul Hemsley         James S.
7th                5                 DNW          7.22                                  Richard P.              Luke
8th                5                 DNW          6.83                                  Billy Bass               Henry
Last Updated on Sunday, 01 June 2014 13:06
<< Start < Prev 1

2

3 4 5 6 7 8 9 Next > End >>


Page 2 of 9