Content View Hits : 2281222

Newsflash
Thanks Adaven Custom Rods.  Greg Cyphers of Adaven Rods can repair you broken rod guides and service and repair any of your reels.  Greg does quality work with a fast turn around give him a call 702-371-4922
| | | | |
| --- | --- | --- | --- |
| December, 21, 2013 Calville Bay | | | |
Monday, 13 January 2014 19:19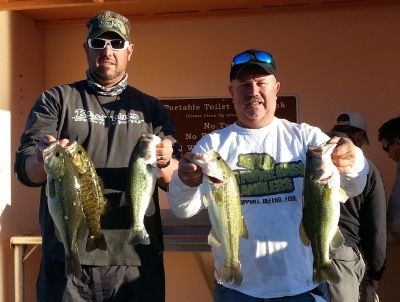 December weather forced BAF to push their scheduled tournament date from the 14th to the 21st.  Ask any of the 15 people that braved a winter day on Lake Mead and they will tell you, you just couldn't ask for a better day in December.  8 teams launched at safe light in hopes of bringing 5 fish to the scales.  In the end, the team of Gary Freeman and Deejay Evans bested the field with 5 fish for over 11 lbs.  In second place, Keith and Larry had 5 fish for over 10 lbs.  Keith's big fish of the tournament at 3.79 lbs was greatly contested.  There were 4 other big fish weighed within 1/10ths off the bar set by Keith.  It was probably the closest contest all year.  In 3rd place, Paul and Zach managed a 3 fish bag for 7.98 beating out Alan and son, Vincent, who had 5 fish for 6.48 lbs.  Don brought his wife, Becky, to put the ixnay on Doug Jones' dream of a respectable return.  Becky brought 2 bass to the scales for 5+ lbs.  Doug's 3 fish for 4.8lbs didn't cut the mustard.  Humberto and partner, Ellison, had some mechanical problems during the day.  Ellison was lucky enough to flag down Gary and Deejay to hitch a ride to weigh in his 1 fish that came close to knocking KVR off the top of the podium.  In the end, we almost had to beg president elect, Toby, to weigh in his single fish.  His partner Jim Shorts warned it was small but, hey, who's keeping score?  If this tournament was for points, that fish would've been bump boarded and maybe even dissected.  A 12 and 3/4 inch fish just doesn't weigh 1.6 lbs.  We counted it, no one blanked, and that's a wrap on 2013.  Good luck to everyone in 2014.
1.  Gary Freeman and Deejay Evans      5 fish          11.41lbs.
2.  Keith VanRiel and Larry Holona        5 fish          10.22lbs.     BIG FISH 3.79lbs.
3.  Paul Hemsley and Zach Holt            3 fish          7.98lbs.
4.  Alan Zamora and Vincent Zamora     5 fish          6.48lbs
5.  Don Hill and Becky Hill                     2 fish          5.55lbs
6.  Doug Jones                                  3 fish          4.80lbs
7.  Humberto and Ellison Hubbard         1 fish          3.74lbs
8.  Toby Robinson and James Cope       1 fsh          1.60lbs
Last Updated on Monday, 13 January 2014 19:28