Content View Hits : 2711095

Newsflash
All BAF members receive a 10% discount at Pro Tackle.  Check Sponsors section for location. 
| | | | |
| --- | --- | --- | --- |
| March Madness, Lake Havasu 2014 | | | |
Wednesday, 12 March 2014 16:01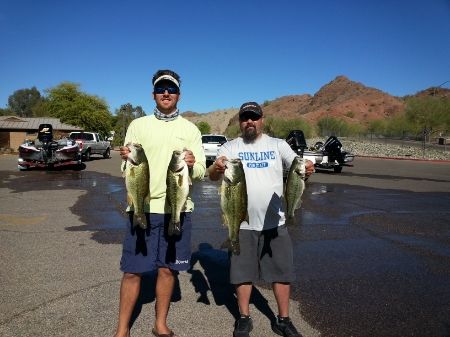 Bass Anglers Federation had an out-of-towner this month and members that made the journey to Lake Havasu this weekend were greeted with nice weather, big bass, and good times.  15-20mph winds on Saturday didn't prevent the guys from bringing in good sacks.  The wind speeds sound a lot worse than it really was.  Rather than a constant pounding, there were breaks here and there which allowed everyone to move around without getting beat up too bad.  And, the wind helped some by kicking up the reaction bite.  Above water temps were in the high 70's and the lake was in pre-spawn / spawn mode.  Fish were caught in just about every fashion and while most were runnin' and gunnin', looking for beds, Toby Robinson found a little honey hole full of smallies he finessed into the live well.  Toby brought in an awesome limit of 4 smallies and 1 largemouth for a total of 16.95 and had big fish on day 1 with a 4.95 smallie.  Pretty impressive for a drop shot in the wind but Toby would drop shot in hurricane force winds if need be.  Team Gary and "Virginia Slim" Steve had a very consistent weekend and held the second spot with 15.05lbs and a 4.79 big fish.  Sitting in 3rd place on day 1 was the team of Paul and Ellison.  A 13.96lb bag would keep them right in the hunt.  Here's the breakdown for day 1....
TEAM #FISH TOTAL BIG FISH
Don Hill and Randall Bruce              3     10.87    4.67
Matt Lisiewski and Larry Holona      3       9.36
Toby Robinson                            5     16.95     4.95
Gary Freeman and Steve Reed       5     15.05     4.79
Paul Hemsley and Ellison Hubbard    5     13.96    3.90
Dominic Amato                            2       5.39
Day 2 kicked off with a few lessons learned.  First, don't head to the lake without checking the fenders on the boat trailer.  You don't wanna lose a couple hundred bucks in hard baits.  Second, DO NOT rely on fishing buddies that have been sippin' a few pops to go buy you cigarettes.  The wind let up for an awesome Sunday.  A breeze sporadically cut the heat on an 81 degree day and the fishing was awesome for everyone but the Day 1 leader.  Toby Robinson had a big ol' target on his back and teams Gary/Steve and Paul/Ellison were in it to win it.  What was not expected was a strong comeback by team Matt/Larry.  Matt and Larry ended day 1 with just 3 fish for 9.36.  Within a half hour of launch on Sunday, they had better than 10lbs in the boat and were working on a solid plan both believed would get em in contention.  Communication, theories, and instinct put them on a cycle of quality upgrades.  It wasn't until the last half hour of the day when out of spots and out of ideas, they hit a cut where they saw a giant bass roaming earlier in the afternoon.  After catching the male earlier in the day, it was a shot in the dark trying to get her to go.  In a few casts, in was evident.  She was angry, she was aggressive, and she went in the live well in a dramatic fashion.  Be sure to show up at the April meeting to here an animated telling of how Larry caught this beast.  At the scales for day 2, here's the drama!
TEAM #FISH TOTAL BIG FISH
Dominic Amato                               5      15.59        4.59
Paul Hemsley and Ellison Hubbard      5      16.71        4.61
Gary Freeman and Steve Reed         5       15.22
Toby Robinson                               5         9.80
Matt Lisiewski and Larry Holona         5       22.76        8.44
Don Hill and Randall Bruce                5       13.57
2 DAY TOTAL
Matt Lisiewski and Larry Holona             32.12
Paul Hemsley and Ellison Hubbard          30.67
Gary Freeman and Steve Reed             30.27
Toby Robinson                                   26.75
Don Hill and Randall Bruce                    24.44
Dominic Amato                                  20.98
Last Updated on Thursday, 13 March 2014 19:56