Content View Hits : 1995100

Newsflash
All BAF members receive a 10% discount at Pro Tackle.  Check Sponsors section for location. 
| | | | |
| --- | --- | --- | --- |
| Calville Night Tourney, 2014 | | | |
Tuesday, 29 July 2014 17:45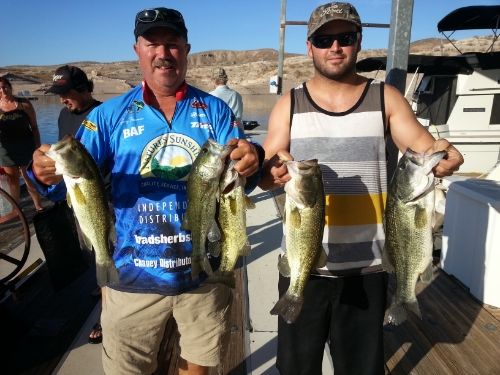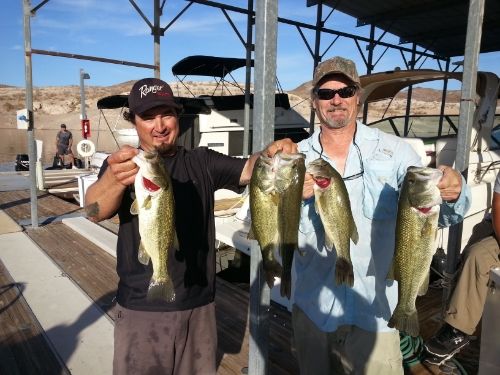 It was a great night on the lake for the Bass Anglers Federation.  Seven teams launched for the clubs annual night tournament and everyone weighed fish.  Toby and Randall stayed on the lake this year and finished 3rd, weighing five fish for 11.47 with a 4.10lb contender for big fish.  KVR and Calvin came in with a solid limit of 12.21lbs to take 2nd place.  In 1st place, bringing in 13.90lbs, is Gary and Anthony.  As I heard it, the tourney was won at dawn.  Anthony stuck a couple of solid keepers just before sunrise to put em over that included big fish weighing 4.60lbs.  Congrats to Gary and Anthony.  The both of these guys needed a win to keep em in contention for Angler of the Year.  The end of the points season is fast upon us and the dock talk has shifted from how and where you caught em to "how much weight you got?".  Toby and Paul are tied up on the boaters side with 468 points, KVR is right there with 467 points, and Gary makes it tough with 466 points.  On the non-boater side, Ellison leads the pack with 481 points.  Anthony trails by 9 points and Matt is just 17 points behind Ellison.  Keep the excitement up, guys!  Here's the breakdown of our night tourney.
Team # of fish BF TOTAL
1. Gary Freeman and Anthony Salazar        5        4.60        13.90
2. Keith Van Riel and Calvin Jones             5         3.57        12.21
3. Toby Robinson and Randall Bruce          5        4.10         11.47
4. Paul Hemsley and Ellison Hubbard          5                        9.82
5. Jerren Slaton and Larry Holona              5                       9.47
6. Alan Zamora and Terry Harper               5                       8.22
7. Angel Moreno and Tamara Moreno         1                       2.22
Last Updated on Monday, 25 August 2014 17:19