Content View Hits : 2728733

Newsflash
Thanks Adaven Custom Rods.  Greg Cyphers of Adaven Rods can repair you broken rod guides and service and repair any of your reels.  Greg does quality work with a fast turn around give him a call 702-371-4922
Written by BAF Admin
Monday, 10 November 2014 08:21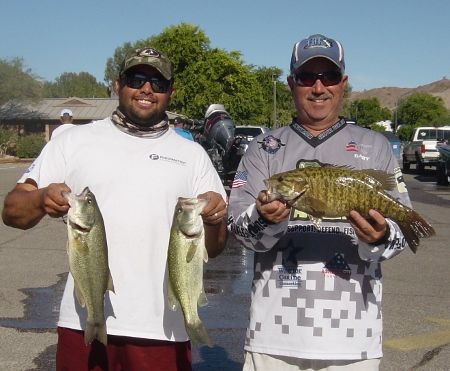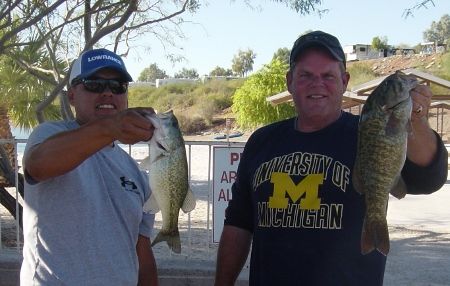 Day 1
Nov 8-9 we held our Club Championship at Lake havasu. You could not have asked for better weather, low of 65 and a high of over 80! The only drawback was they had dropped the lake about 3-4 feet and some areas were not accessible. With a 4 boat field (we really need to get more people there)! We launched a little late day one but everyone got out and it was game on.  Don and Ellison came out of the gate in front for the first day with a nice 3.83 smallmouth and a 5 fish limit of 8.45 pounds, Gary and Calvin were right behind with the big fish the first day of 4.50 and a 3 fish weight of 6.71. Paul Hemsley was in third with 2 fish with his big fish of 3.89 and a total weight of 4.97 and Toby and Randall  Bruce with 2 fish at 4.13.
Day 2
After we synchronized our watches we all launched as the sun was coming up this time and again the weather was awesome! The bite was a bit tougher the second day with at least three tournaments going on over the weekend. The top water bite was a little slow but came through for a few boats! At the end of the day Gary and Calvin came in with a nice sack of 9.35 for a 2 day total 16.06. Don and Ellison came in with 5.35 for a total weight of 13.80, Toby and Randall had 5.03 and Paul had a rough day with 1 fish but did not weigh in.
All in all it was a fun weekend with the traditional p@ker game that Randall and Toby went to wire with Randall taking home the win! Fun time had by all with everyone stating that they can't wait for the spring 2 dayer at Lake Havasu.
Club Champion – Gary Freeman    Co-Angler Champion –Calvin Jones    16.06 and Big Fish for the weekend 4.50
2. Don Hill    Ellison Hubbard - 13.80
3. Toby Roby Robinson  Randall Bruce – 9.16
4. Paul Hemsley – 4.97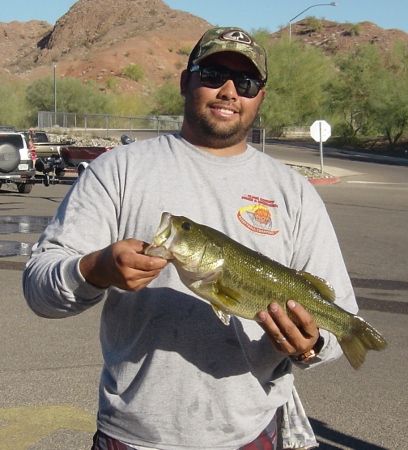 Last Updated on Monday, 10 November 2014 16:26