Content View Hits : 2728732

Newsflash
All BAF members receive a 10% discount at Pro Tackle.  Check Sponsors section for location. 
| | | | |
| --- | --- | --- | --- |
| APRIL 25, 2015 TOURNAMENT RESULTS | | | |
Written by BAF Admin
Saturday, 09 May 2015 15:27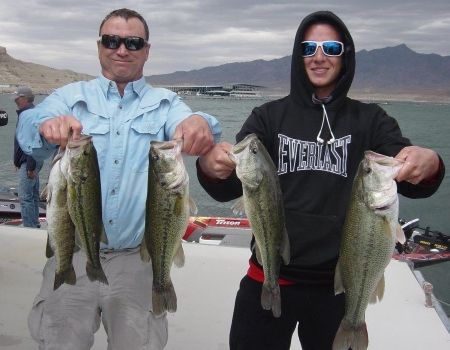 Roger Williams and Zach Holt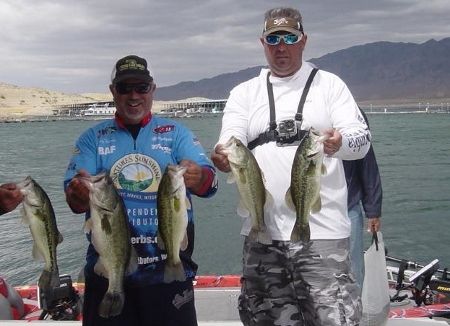 Gary Freeman and Deejay Evans
Alan Zamora and Randall Bruce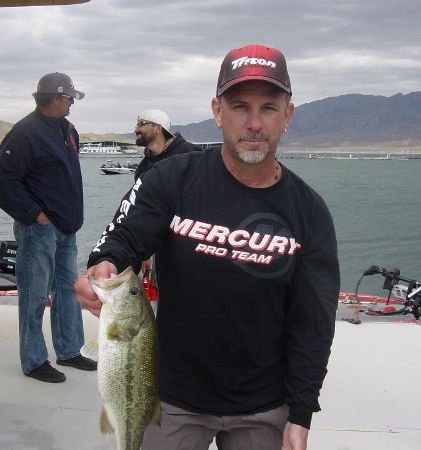 Victor Cole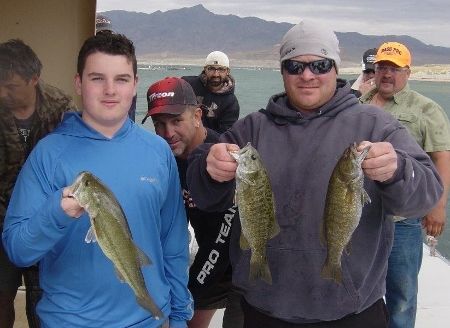 Matt Warner andJoel Houck
It started off super nice at the take off then around 10 or so the wind came up around Temple Bar.  Alan and Randall hung pretty close to the launch but the winners Roger Williams and Zach Holt said they made a brutal run to Echo Bay where Zach bagged their kicker fish to win the derby with 14.99.
Very exciting weigh in with Gary and Deejay bringing a  huge fish 5.66 and having over 14 pounds. Victor Cole was 3rd with a very nice sack. It was a great day at Lake Mead, all the anglers brought fish to the weigh in.
Congratulations to Roger Williams and Zach Holt for the tournament win and Gary Freeman for winning big fish
PLACE          TEAM                                TOTAL WEIGHT      BIG FISH
1. Roger Williams/Zack Holt -         14.99
2. Gary Freeman/Deejay Evans-      14.28           big fish winner  5.66
3. Victor Cole-                            12.42
4. Alan Zamora/Randall Bruce-       11.15
5. Bryan Diehm/Jim Hugette-         10.56
6. Scott Saltz/Junior Castillo-           8.75
7. Billy Snyder/Henryk Grzyb-         6.37
8. Dan Partida/Lauren Storla-        6.34
9. Matt Warner/Joel Houck-          5.13
Last Updated on Saturday, 09 May 2015 15:52