Content View Hits : 2579801

Newsflash
All BAF members receive a 10% discount at Pro Tackle.  Check Sponsors section for location. 
Written by BAF Admin
Thursday, 06 April 2017 15:25
Paul Hemsley---Randall Bruce
Havasu:
It was a fantastic day to get out on the water for the Club's annual trip to Lake Havasu.  The sun was bright and the wind cooperated, which provided a great weekend of fishing.   We fished 2 days with each day being its own tournament.  Day 1 concluded with Paul Helmsley and Randall Bruce bringing in a hefty bag of Large and Smallmouth Bass.  They took 1st place with 16.62.  Dominic Amato and his co-angler Matt Durham finished in 2nd place with 12.98.  Day 2 was also a sweet day to be on the water.  Paul Helmsley and Randall Bruce completed the sweep by taking home 1st place with a 15.23lb bag.
Dominic Amato---Matt Durham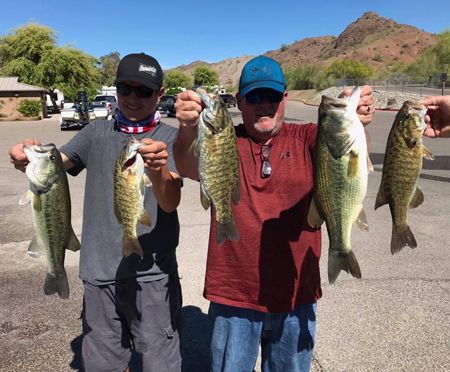 Don Hill---Corey Williamson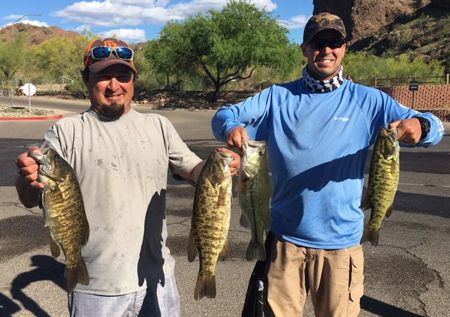 Toby Robinson---Jim Hulett
Paul Hemsley with big fish for Sunday
Overall results posted below:
Day 1:
Paul Hemsley---Randall Bruce​5 Fish​16.62​Big Fish​3.89
Dominic Amato---Matt Durham​5 Fish​12.98
Toby Robinson---Jim Hulett​5 Fish​12.76
Don Hill---Corey Williamson​5 Fish​11.81
Jesse Ortega---Vince Zamora​3 Fish​5.12
Danny Partida---Jake Krause​3 Fish​4.22
Jamey Walls---Jacob Thompson​1 Fish​2.96
Day 2:
Paul Hemsley---Randall Bruce​5 Fish​15.23​Big Fish 4.88
Toby Robinson---Jim Hulett​5 Fish​14.40
Don Hill---Corey Williamson​5 Fish​11.65
Jamey Walls---Jake Thompson​3 Fish​4.61
Danny Partida---Jake Krause​0 Fish
Danny Partida---Jake Krause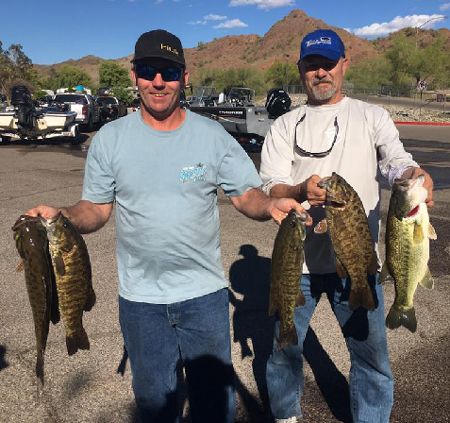 Paul Hemsley---Randall Bruce​5 Fish​16.62​Big Fish​3.89
Don Hill
Randall Bruce  Swim Bait during prefish Friday
Toby Robinson with a 7lber during prefish
Randall Sunday mourning
Don Hill---Corey Williamson​5 Fish​11.81
Don Hill
Last Updated on Thursday, 06 April 2017 16:03