Content View Hits : 2190198

Newsflash
All BAF members receive a 10% discount at Pro Tackle.  Check Sponsors section for location. 
| | | | |
| --- | --- | --- | --- |
| MARCH 28, 2010 ECHO BAY, LAKE MEAD | | | |
Written by BAF Admin
Tuesday, 09 February 2010 17:08
This months tournament was a great success.  We had 13 boats show up at Echo Bay with at least 4 new members.  The weather was perfect with some clouds and light wind.  Aaron Leon drew last boat and launched everyone at 6:22am and it was game on.  After a long beautiful day of fishing everyone showed up to the 3:00pm weigh in with the goods.  Third place went to Aaron Leon and Damion Bettiste with 5 fish that went 12.19lbs with a First place Big fish of 4.67lbs.  Second place was new member Greg Cyphers and Fernando with 5 fish at 12.79lbs and a big fish of 2.97lbs .  The win went to Brent Becker and Alan Zamora with 5 fish at 12 .98lbs with a big FAT 3.90lb smallie.  Congratulation to Brent and Alan for taking the win in what turned out to be a close race.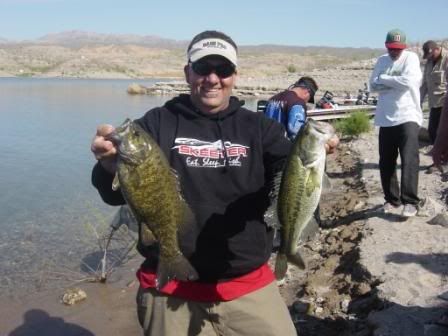 Brent Becker showing off a Fat smallie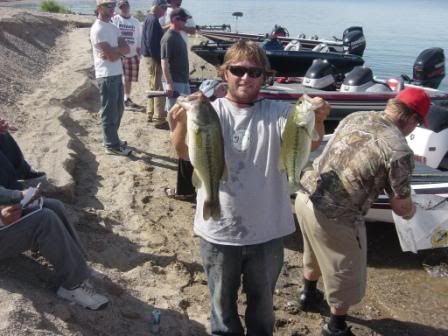 Aaron Leon with a 4.67lb winning big fish.
Check out more photos here. http://www.bassanglersfederation.com/hp_joomla_15/index.php?option=com_phocagallery&view=category&id=6:march-282010-echo-bay-lake-mead&Itemid=57
Brent Becker and Alan Zamora           5 fish      12.98lbs         3.90lb big fish
Greg Cyphers and Fernando               5 fish      12.79lbs         2.97lb
Aaron Leon and Damion Bettiste        5 fish      12.19lbs         4.67lb First place big fish
Joe Raftery and Curtiss                      5 fish      12.14lbs         3.74lb
Matt Warner and Corey Smith            5 fish       11.30lbs         dnw
Gary Freeman and Sam Schiers           4 fish        9.17lbs          3.57lb
Deejay Evans and Troy Munnich         3 fish        8.37lbs          3.60lb
Billy Snyder and Paul Genet                3 fish        6.99lbs          dnw
Ben Grande and Tony Velasco            3 fish        6.03lbs          2.94lb
Paul Hemsley and Mike Grande            2 fish        5.09lbs          3.90lb
Don Hill and Aaron Green                   3 fish        3.75lbs          dnw
Richard Powers and Jon Whisenant     1 fish        1.46lbs          dnw
Tom Beck and Rick Powers                0 fish             0             dnw
Last Updated on Wednesday, 09 March 2011 19:25