Content View Hits : 2190285

Newsflash
Thanks Adaven Custom Rods.  Greg Cyphers of Adaven Rods can repair you broken rod guides and service and repair any of your reels.  Greg does quality work with a fast turn around give him a call 702-371-4922
| | | | |
| --- | --- | --- | --- |
| February 20, 2010 Cottonwood cove, Lake Mohave | | | |
Written by BAF Admin
Sunday, 21 February 2010 15:22
Lake Mohave is world renowned for its wind and giant waves.  Anglers were not let down for this months tournament.  The wind blew 20-30 mph all day making 5-6ft white caps on parts of the lake. The clouds let loose for the first 30min getting everyone a little wet.  After the rain stopped it was mostly cloudy with small periods of sunshine.  The launch area was crowded with 3 tournament going out  of Cottonwood Cove.   BAF was the first to launch and everyone made their move.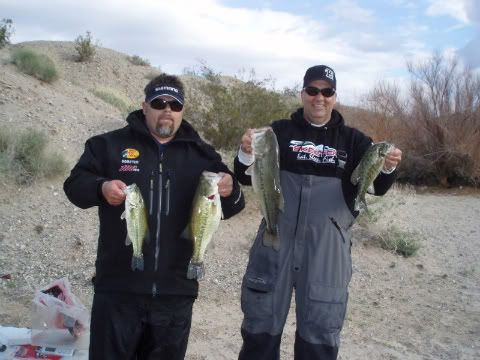 In the end it was a tough day with Brent Becker and Tony Velasco coming out on top.  Brent and Tony brought 4 fish @ 11.75lbs to the scales with a 5.16lb kicker.   Second was Paul Hemsley and Joe Raftrey also with 4 fish @ 9.03lbs, big fish of 3.22lbs.  Rounding out the last step on the podium was Gary Freeman and Paul G. weighing 2 nice fish @  6.37lbs, second place big fish of 3.72.
Congratulations to Brent Becker and Tony Velasco for sweeping the tournament and big fish.
Brent Becker and Tony Velasco              4 fish   11.75lbs     1st  BF  5.19lbs

Paul Hemsley and Joe Raftery                 4 fish     9.03lbs           BF  3.22lbs

Gary Freeman and Paul G.                      2 fish     6.37lbs     2nd BF  3.72lbs

Ben Grande and Aaron Greene               3 fish     5.09lbs            BF  2.76lbs

Don Hill and Troy Munnich                      1 fish     2.74lbs

Deejay Evans and Tom Martin                 1 fish     2.33lbs

Aaron Leon and Fernando                      0 fish

Richard Powers and Rick Powers              0 fish

Billy and Curtiss                                      0 fish
Click this link for more photos.  http://www.bassanglersfederation.com/hp_joomla_15/index.php?option=com_phocagallery&view=category&id=4:bass-fishing-nevada&Itemid=57
Last Updated on Sunday, 25 September 2011 10:07