Content View Hits : 2190186

Newsflash
All BAF members receive a 10% discount at Pro Tackle.  Check Sponsors section for location. 
| | | | |
| --- | --- | --- | --- |
| APRIL 24, 2010 ECHO BAY TOURAMENT RESULTS | | | |
Written by BAF Admin
Sunday, 25 April 2010 13:54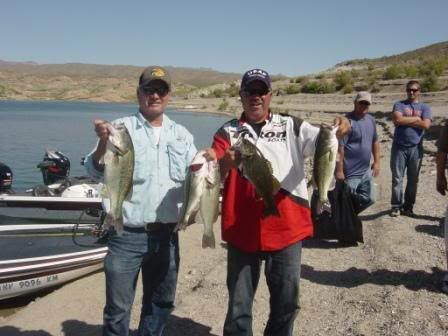 First place anglers Gary Freeman and Randall Bruce showing off 15lbs of bass.
April 24th was the date for round four of the 2010 season.  The place was Echo Bay Lake Mead.  9 teams showed up to compete for the Blue Ribbon trophy. All the teams launched safely at 05:48am everyone scattered in all directions, game on!  All who attended took advantage of perfect weather with calm winds.  In the end most anglers caught fish and were culling by late mourning.  At the end of the day everyone headed to the beach for the weigh in.   Third place went to Don Hill and Tony Velasco with 12.38lbs.  Second was Brent Becker and Tony Martin tipping the scales at 13.84lbs.  The team with the 5 biggest bass was Gary Freeman and Randell Bruce.  Gary and Randall took big fish honors along with the win with 15.29lbs.  Congratulation to Gary and Randall for taking home the  trophy.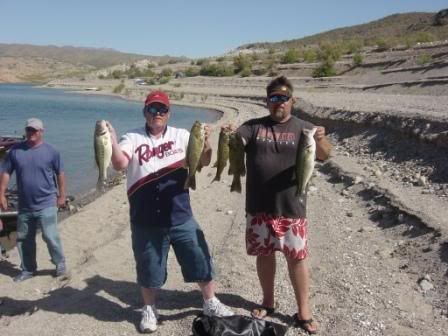 3rd place anglers Don Hill and Tony Velasco.
More photos here: http://www.bassanglersfederation.com/hp_joomla_15/index.php?option=com_phocagallery&view=category&id=8:april-24-2010-echo-bay-lake-mead&Itemid=57
Boater                 Non-Boater          Total Weight    Total Fish    Biggest Fish
1              Gary Freeman   Randall Bruce          15.29lbs                5               5.15lbs
2              Brent Becker     Tony Martin             13.84lbs                 5               3.79lbs
3              Don Hill             Tony Velasco           12.38lbs                 5               3.56lbs
4              Paul Hemsley     Andrew McClure     11.50lbs                5               2.77lbs
5              Aaron Greene     Ben Grande               8.84lbs                 5               2.58lbs
6              Billy Snyder        Bob Keck                    7.73lbs                 5               2.03lbs
7              Mike Grande      Troy Munnich            7.00lbs                5                  dnw
8              Sam Schiers          Paul Genet                3.81lbs                 2                 dnw
9              Mike Burks         Jon Whisenant                0     
Last Updated on Wednesday, 09 March 2011 19:26