Content View Hits : 1772850

Newsflash
All BAF members receive a 10% discount at Pro Tackle.  Check Sponsors section for location. 
| | | | |
| --- | --- | --- | --- |
| AUGUST 28, 2010 CALLVILLE BAY, LAKE MEAD | | | |
Written by BAF Admin
Monday, 30 August 2010 17:55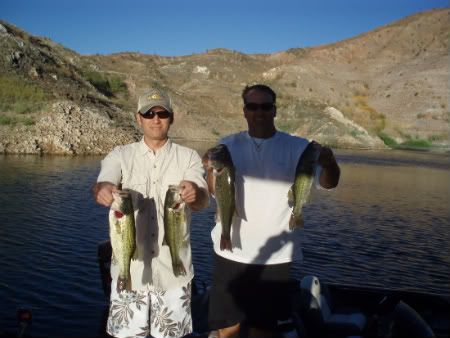 Brent Becker and Shane SalsBury win August night tournament
The August tournament was moved from Lake Mohave to Callville Bay,  Lake Mead due to high winds.  When the teams meet at the top of the new launch ramp at 6pm the wind was blowing 10 - 15 mph.  With the Temps in the upper 90's everyone launched without a hitch most teams heading toward the narrows.  The wind maintained most of the night stopping for about an hour at one point.  At the end of the night the 8 teams met to weigh the fish and see who had the best night.  Third place went to Gary Freeman and Alan Zamora with a five fish limit of 9.42lbs. Finnishing second with a 4 fish sack of 9.65lbs was Sam Scheirs and Tony Velasco.  Brent Becker and Shane Salsbury took the victory with 10.65lbs and the big fish at 4.09lbs.  Congratulations to Brent and Shane for taking the win.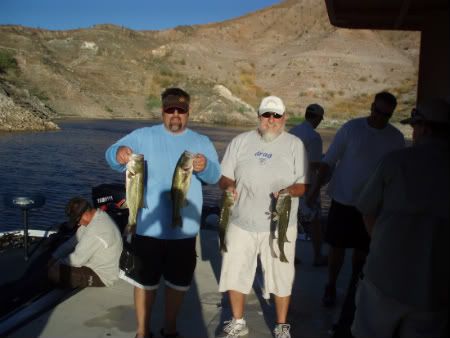 Sam Schiers and Tony Velasco take second. Nice Job guys
                      TEAM                                    FISH             BIG FISH                   WIEGHT
Brent Becker and Shane Salsbury            5             4.09LBS           10.65LBS BIG FISH WINNER
Sam Schiers and Tony Velasco                4             3.38lbs              9.96lbs                           
Gary Freeman and Alan Zamora               5               dnw                9.42lbs                           
Paul Hemsley  and Larry Holona               4              2.28lbs             5.52lbs                           
Joe Raftrey, Joe and Tom Martin             2              3.50lbs             4.94lbs                            
Deejay Evans and Randell Bruce               1                                    2.16lbs                            
Billy Snyder and Pul Genet                      0                                                                          
Greg Cyphers and Bob Keck                    0                                                                             
Last Updated on Friday, 24 September 2010 15:28