Content View Hits : 2190059

Newsflash
All BAF members receive a 10% discount at Pro Tackle.  Check Sponsors section for location. 
| | | | |
| --- | --- | --- | --- |
| SEPTEMBER 11, 2010 LAKE MOHAVE | | | |
Written by BAF Admin
Saturday, 18 September 2010 18:26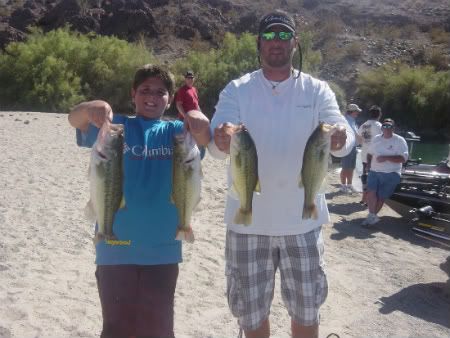 This months Tournament was held at Cottonwood Cove Lake Mohave.  The weather was outstanding with only a small breeze all day.  All the anglers showed up on time and ready to go.  Brent Becker launched the boats at 5:55am with most boats staying around the narrows.  Don Hill took advantage of the calm conditions as did Deejay Evans, Don going north and Deejay heading far south.  After a beautiful day of fishing everyone met at the tires to see who won.  Third place went to Don Hill and Alan Zamora with 4 fish weighing 8.26lbs an the winning big fish of 4.97lbs. Second place money went to Greg Cyphers and Tony Velasco weighing in a limit of 8.46lbs.  Taking first place money was Deejay Evens fishing with his son Dylan.  Deejay and Dylan weighed in 5 fish @ 10.46lbs.
Congratulations to Deejay and Dylan Evans for the win on Lake Mohave and Don Hill for big fish honors.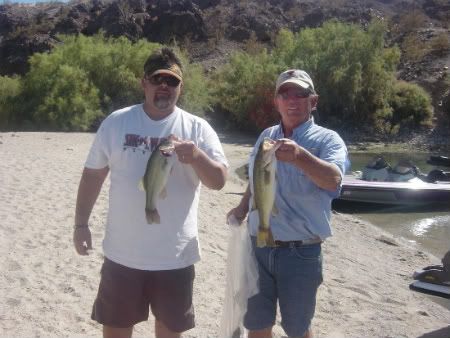 Greg Cyphers and Tony Velasco show us 2 of their 5 bass
Don Hill and Alan Zamora showing the winning big fish.
This was also the last tournament of the season brining us to the end of a great season.  After the points were tallied up Brent Becker won the Boater Angler of the Year.  For the second year in a row Tony Velasco walked away with the Non-boater Angler of the Year award.  Congratulations to both anglers for their great seasons.
---
TEAM                                      # OF FISH            WIEGHT             BIG FISH


Deejay Evans and Dylan Evans                      5                    10.46lbs            4.05lbs
Greg Cyphers and Tony Velasco                     5                     8.46lbs             2.91lbs
Don Hill and Alan Zamora                                3                     8.26lbs             4.97lbs
Gary Freeman and Curtiss Easter                   3                     4.66lbs
Brent Becker and Larry Halona                       2                     4.28lbs
Paul Hemsley and Shane Salsbury                  2                     4.28lbs
Doug Jones and Jo Radtke                              1                     2.79lbs
Last Updated on Sunday, 25 September 2011 10:09