Content View Hits : 2729833

Newsflash
Thanks Adaven Custom Rods.  Greg Cyphers of Adaven Rods can repair you broken rod guides and service and repair any of your reels.  Greg does quality work with a fast turn around give him a call 702-371-4922
| | | | |
| --- | --- | --- | --- |
| DECEMBER 18, 2010 CALLVILLE BAY | | | |
Written by BAF Admin
Monday, 20 December 2010 19:05
Bass Anglers Federation launched the last tournament of this year from Callville Bay Marina on December 18,  2010.  9 teams gathered at the top of the ramp and were met with 20mph wind and a high chance of rain.  The wind blew out of the south all day but the rain held off until the ride home.  Some anglers stayed to fight rough water in Callville Bay while the rest headed for the Narrows hoping to escape the wind.  The fishing was good as most teams weighed some nice fish. However, it was a tough day for some with Joe Raftery losing the lower end of his motor in the narrows forcing him to be towed by the Rangers.  Also Don Hill's motor stopped after pounding big rollers outside Callville Bay also needing to be towed.  Last Chris Landermin soaked his motor causing running problems for the entire day but still managed to make the wiegh in.  At the end everyone made it back to the marina safe.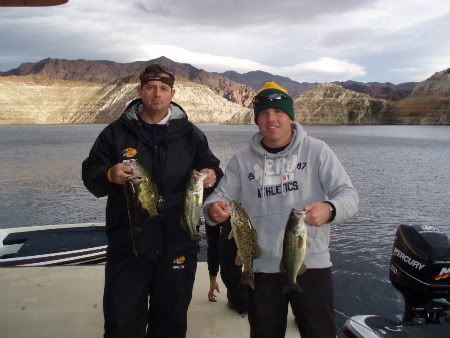 Chris Landermin and Tom Martin take home third place.
Curtiss Easter showing the winning Big Fish.
At the weigh in it was Chris Landermin and Tom Martin limping their boat to a third place finnish with 5 fish @ 9.18lbs.  Second place and Big Fish winners were Paul Hemsley and Curtiss Easter weighing in 10.38lbs with a 3.82lb small mouth.  First place went to Kieth VanReil and Richard Powers with a bag of 10.96lbs with a 3.13lb large mouth big fish.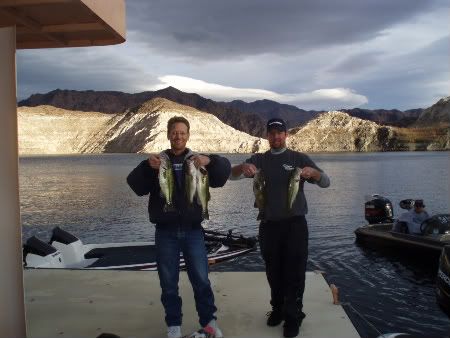 Congratulations to Kieth and Richard for the impressive win on a rough and windy Lake Mead.
TEAM                                               WIEGHT                 BIG FISH      NO. OF FISH
Kieth VanRiel and Richard Powers                   10.96lbs                3.13lbs             5
Paul Hemsley and Curtiss Easter                     10.38lbs                3.82lbs             5
Chris Landermin and Tom Martin                     9.18lbs                 dnw                 5
John Makey and his wife                               7.23lbs                  dnw                 4
Gary Freeman and Billy Snyder                        6.84lbs                  2.95lbs            3
Joe Raftrey and Randell Bruce                        3.56lbs                  3.56lbs             1
Don Hill and Guest                                        2.04lbs                  2.04lbs             1
Doug Jones and Alan Zamora                          0
Brent Becker and Tony Velasco                       0
Last Updated on Monday, 12 December 2011 18:23