Content View Hits : 2729835

Newsflash
All BAF members receive a 10% discount at Pro Tackle.  Check Sponsors section for location. 
| | | | |
| --- | --- | --- | --- |
| JANUARY 8, 2011 TOURNAMENT | | | |
Written by BAF Admin
Wednesday, 12 January 2011 14:06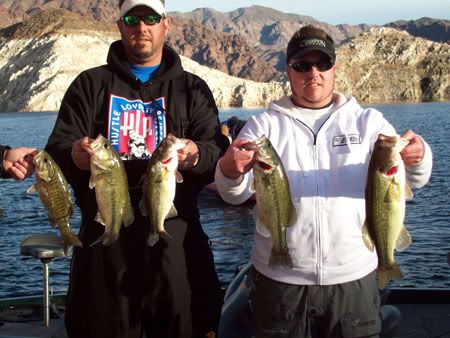 Congratulations to Deejay and Joe Raftery for taking the first win of the 2011 season with 12.77lbs.
Bass Anglers Federation held the first tournament of 2011 on Lake Mead launching from Callville Bay Marina.  Eleven teams met early Saturday morning to enjoy the near perfect weather.  Don Hill acted as call boat launching everyone at 6:05 am.  Some anglers headed for the Narrows with most choosing to stay in the Callville area.  Fishing proved to be tough as only two of the eleven teams managed a limit.  Kieth Van Riel and Randell Bruce brought 4 bass to the scales weighing 7.70lbs to take home third place.  Second place went to a very consistent Greg Cyphers and Curtiss Easter weighing 5 bass at 9lbs even.  Taking the win for the first time in 2011 was Deejay Evans and Joe Raftery .  Deejay and Joe weighed in 5 bass at 12.77lbs including the winning big bass of 4.67lbs reeled in by Joe.   Other notable bass weighed in were a 4.26lb largemouth by Billy Snyder and a 4.11lb largemouth by Alan Zamora.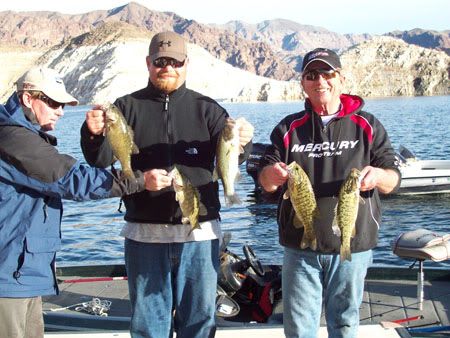 Greg Cyphers and Curtiss Easter showing us their 5 bass.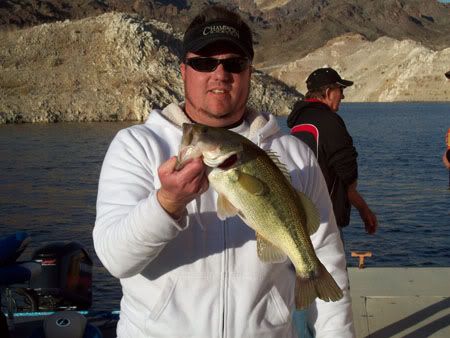 Joe Raftery with his 4.67lb lunker.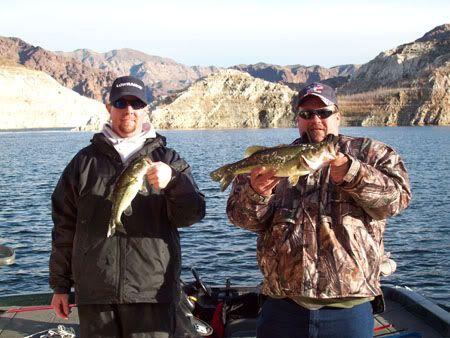 Richard Powers and Billy Snyder with their catch including a 4.26lb toad.
                  Team                                                Weight      Big Bass
 Deejay Evans and Joe Raftery             12.77lbs    4.67lb big bass winner

Greg Cyphers and Curtiss Easter            9.00lbs                       

Kieth Van Riel and Randell Bruce            7.70lbs    2.78lb               

Paul Hemsley and Jon Whisenant           6.69lbs                         

Brent Becker and Alan Zamora               6.15lbs    4.11lb              

Richard Powers and Billy Snyder             5.26lbs    4.26lb
Doug Jones and Tony Velasco               3.63lbs            
Ben Grande and Larry Holona                 3.35lbs
Rich Mulder                                         2.90lbs                          
Don Hill                                              1.91lbs
Gary Freeman and Tom Martin                   0      
Last Updated on Friday, 14 January 2011 16:04