Content View Hits : 2729837

Newsflash
All BAF members receive a 10% discount at Pro Tackle.  Check Sponsors section for location. 
| | | | |
| --- | --- | --- | --- |
| February 12, 2011 Tournament | | | |
Written by BAF Admin
Sunday, 13 February 2011 18:34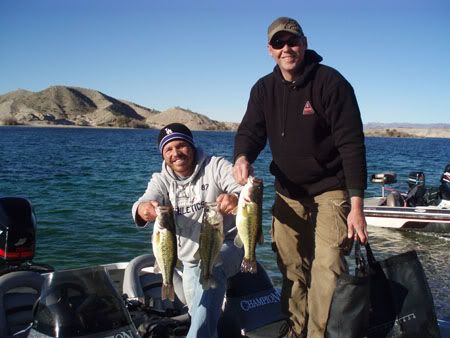 Chris Landermin and Duaine Cowley show off three of their 5 bass.
Bass Anglers Federation held the February tournament at Cottonwood Cove, Lake Mohave.  9 teams made the 1hr 20min trip to enjoy the warmer weather an some tough Lake Mohave fishing.  Early mourning started with calm wind and became light by the afternoon with temps in the high 60s.  Alan Zamora acted as the call boat and launched the teams at 6:15am.  All the teams made it safe though the day and returned to weigh in and see who had the best day.   Coming in third place with 2 fish 9.02lbs including the winning big fish a 6.24lb largemouth was Greg Cyphers and Randell Bruce.  Coming in second with 5 fish including a 4.59lb big fish was Paul Hemsley and Joe Raftery weighing in 14.54lbs.  Taking the win by only .04lb was the team of Chris Landermin and Duaine Cowley.  Chris and Duaine brought 5 bass weighing 14.58lbs including a 4.39lb big fish.  Congratulations to Chris and Duaine on taking an extremely close victory.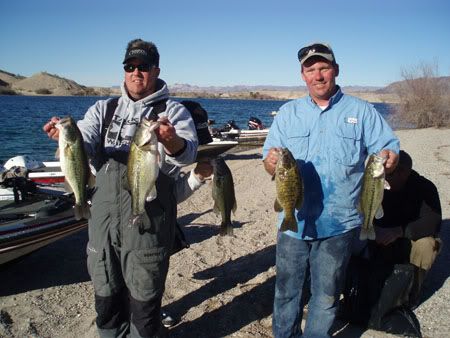 Paul Hemsley and Joe Raftery showing their five bass.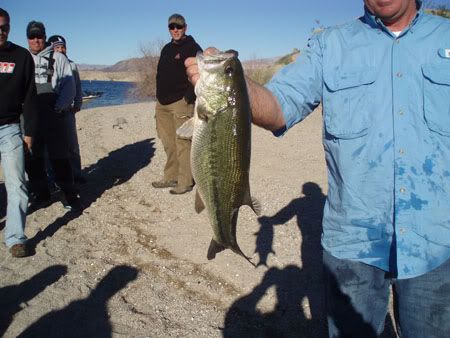 Greg Cyphers bought this 6.24lb bass to win the big fish pot.
 The rest of the field finished as follows.
                               team                                             no. of fish               weight                big fish
Chris Landermin and Duaine Cowley                          5                        14.58lbs              4.39lb      

Paul Hemsley and Joe Raftery                                    5                        14.54lbs              4.59lb     

Greg Cyphers and Randall Bruce                                   2                         9.02lbs              6.24lb    

Ben Grande and Tom Martin                                      3                         7.24lbs                             

Brent Becker and Joe Radtke                                     1                         3.36lbs                             

Doug Jones and Mike Grande                                     1                         2.25lbs                             

Alan Zamora ad Larry Holona                                      1                         2.23lbs                             

Don Hill and Jon Whisenant                                       0                                                                 

Rich Mulder and Bob Keck                                         0                                                                 
More photos here: http://www.bassanglersfederation.com/hp_joomla_15/index.php?option=com_phocagallery&view=category&id=19:february-12-2011-cottonwood-cove-lake-mohave&Itemid=57
Last Updated on Sunday, 13 February 2011 20:42