Content View Hits : 2729840

Newsflash
Thanks Adaven Custom Rods.  Greg Cyphers of Adaven Rods can repair you broken rod guides and service and repair any of your reels.  Greg does quality work with a fast turn around give him a call 702-371-4922
| | | | |
| --- | --- | --- | --- |
| MARCH 12, 2011 TOURNAMENT TEMPLE BAR , LAKE MEAD | | | |
Written by BAF Admin
Tuesday, 15 March 2011 19:16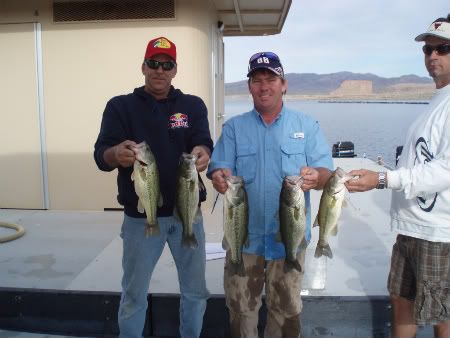 Paul Hemsley and Bob Keck showing 12.63lbs of bass.
Bass Anglers Federation held the trird round of the 2011 season at Temple Bar, Lake Mead. 10 teams meet to enjoy to great weather and some great fishing. Richard and Rick Powers launched all the teams at 5:30am and the teams scattered around Temple Bar. The morning was clear and clam with some clouds and light wind in the afternoon. All the teams made it back to the marina safe to see how they stacked up. The team of Alan Zamora and Tom Martin weighed in 5 fish at 11.26lbs with a kicker fish of 3.86lbs landing them in third place. Brent Becker and Jon Whisenant came to the scales with 5 fish weighing 11.74lbs with the winning big fish of 4.14lbs. Taking the win was the team of Paul Hemsley and Bob Keck with a weight of 12.67lbs and 3.34lb big bass.
Congratulations to Paul and Bob for winning the March tournament.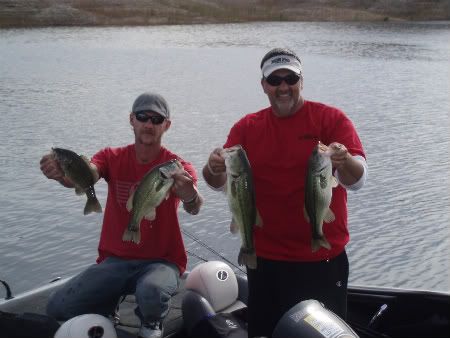 Brent Becker and Jon Whisenant with some nice bass.
Alan Zamora showing his 2 best fish.
Here are the rest of the results.
TEAM                                   NO. of FISH     WEIGHT         BIG FISH           

Paul Hemsley and Bob Keck                       5              12.63lbs           3.37lbs
Brent Becker and Jon Whisenant               5              11.74lbs           4.14lbs
Alan Zamora and Tom Martin                     5              11.26lbs           3.86lbs
Doug Jones and Tracy Jones                     3                6.84lbs
Greg Cyphers and Billy Snyder                  3                6.27lbs
Gray Freeman and Larry Holona                2                5.29lbs
Rich Mulder and Matt Hoffert                     1                3.09lbs
Don Hill and Jason Toal                             2                2.98lbs
Ben Grande and Randell Bruce                 0
Richard Powers and Rick Powers              0
Last Updated on Tuesday, 22 March 2011 12:16