Content View Hits : 2190262

Newsflash
All BAF members receive a 10% discount at Pro Tackle.  Check Sponsors section for location. 
| | | | |
| --- | --- | --- | --- |
| MAY 14, 2011 ECHO BAY LAKE MEAD | | | |
Written by BAF Admin
Tuesday, 17 May 2011 14:36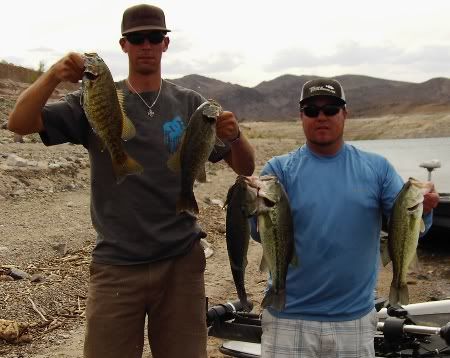 Joe Raftery and Cory Robison take first place with 13.13lbs of fish
We lost a few boaters and nonboaters but picked up a few just before Saturday. The weather was perfect in the morning and the fishing was on fire. Of course this is Lake Mead and the wind never blows out there, by noon we had a 15 - 20 mph wind out of the South so those who ran out of Echo bay had to deal with some rough water. All said and done everyone weighed fish and it was a good turnout.
Greg cyphers came in with the big fish of 5.0 with Gary Freeman close with a nice 4.0 largemouth. With 8 boats we had 5 limits with an impressive weight of 75 lbs of fish! First place went to Joe Raftry and Cody Robison with 13lbs 13 oz, Second went to Greg Cyphers with 12lbs 4oz and Third went to Sam Shiers and Tom Martin with 11lbs 9oz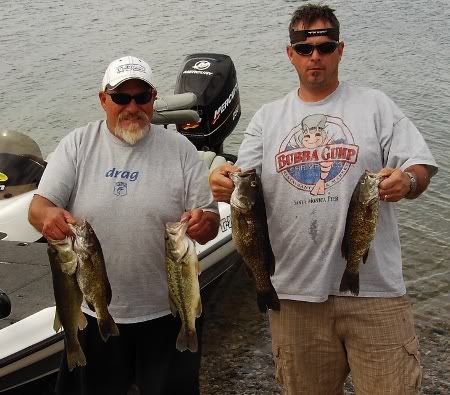 Sam Schiers and Tom Martin show us their fish.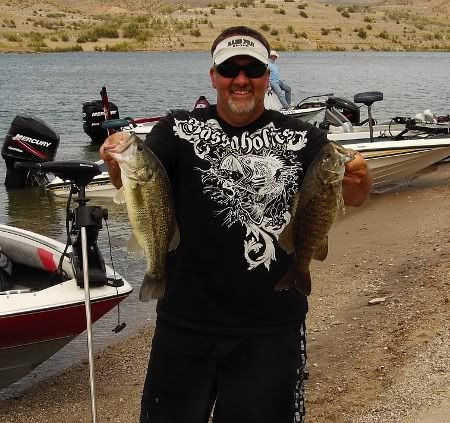 Brent Becker sowing off two nice largemouth
The full results are as follows:
1. Joe Raftery and Cody Robison                5 fish       13lbs    13oz
2. Greg Cyphers                                       5 fish        12lbs    4oz        Big fish 5lbs
3. Sam Shiers and Tom Martin                    5 fish        11lbs  15oz  -6oz penalty = 11lbs  9oz
4. Gary Freeman and Matt Hoffert              5 fish        11lbs    8oz         Big fish 4lbs
5 .Brent Becker and Randell Bruce              5 fish        11lbs    5oz
6 .DeeJay Evans and Larry Holona               3 fish          7lbs   8oz
7. John Hans                                           2 fish          3lbs  11oz
8. Doug Jones and Dennis Foxworthy          2 Fish         3lbs   6oz
Last Updated on Tuesday, 17 May 2011 15:58