Content View Hits : 2190246

Newsflash
All BAF members receive a 10% discount at Pro Tackle.  Check Sponsors section for location. 
| | | | |
| --- | --- | --- | --- |
| June 11, 2011 Tournament Lake Mohave | | | |
Written by BAF Admin
Sunday, 19 June 2011 12:48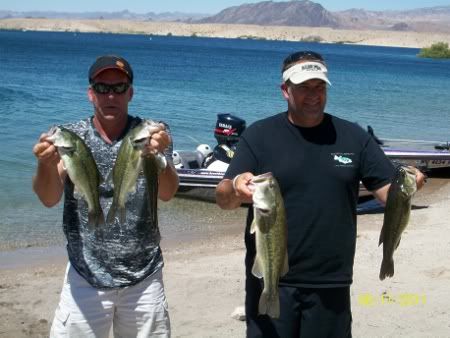 Brent Becker and Bob Keck Take The Win At Lake Mohave
Bass Anglers Federation held its June Tournament at Lake Mohave launching from Cottonwood Cove.  We had seven teams come to Lake Mohave to in the wind and the waves.  Early morning wind was calm send a few teams south to try and get a big bite.  The wind stayed away for most of the morning but showed up good around 11:00am,  blowing  20 - 25 mph the rest of the day.  Everyone had a safe day making it bake to the weigh-in with out any big problems.  After the bags were weighed Paul Hemsley and Matt Hoffert came home in third place with 3 fish tipping the scales at 7.55lbs.  Second Place went to Gary Freeman and Alan Zamora with a limit of bass weighing 11.49lbs including the winning big bass at 5lbs even.  First place went to the team of Brent Becker and Bob Keck bringing in five bass weighing 14.04lbs.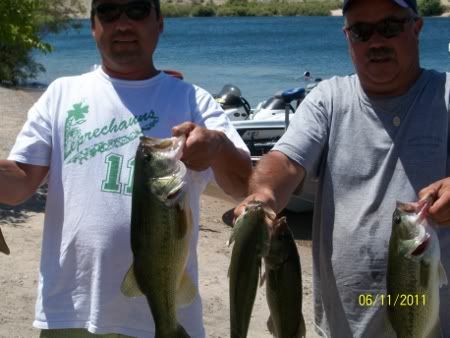 Alan Zamora and Gary Freeman show there bass with winning Big Fish of 5lbs.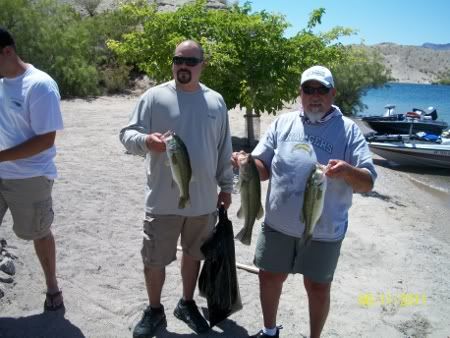 Sam Shiers and Larry Holona show us there bass.
Congratulations to Brent and Bob for the June tournament win.
1. Brent Becker and Bob Keck                 5 fish        14.04lbs        big fish  4.26lbs
2. Gary Freeman and Alan Zamora         5 fish        11.49lbs        big fish   5.00lbs  
3. Paul Hemsley and Matt Hoffert           3 fish          7.52lbs        big fish   3.87lbs 
4. Sam Shiers and Larry Holona             3 fish          7.22lbs        big fish   2.81lbs 
5. Greg Cyphers and John Hans             3 fish          6.85lbs        big fish   4.29lbs 
6. Joe Raftery and Randell Bruce            3 fish          6.10lbs                                  
7. Doug and Cody Robison                     2 fish          4.68lbs
Last Updated on Sunday, 19 June 2011 13:29