Content View Hits : 2190260

Newsflash
All BAF members receive a 10% discount at Pro Tackle.  Check Sponsors section for location. 
Written by BAF Admin
Tuesday, 26 July 2011 18:23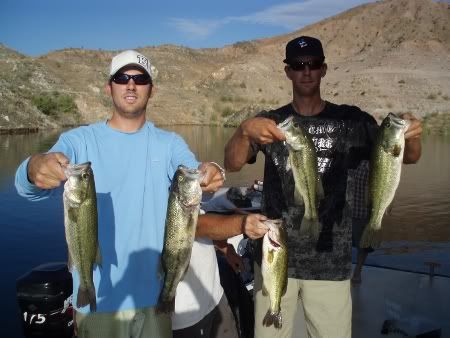 Matt Lisiewski and Cody Robison showing a solid limit.
Bass Anglers Federation held the July tournament at Callville Bay.  Eight boats line up at 7pm for our first night tournament of the year.   Anglers launched with temp hovering around 109 and light wind, most heading towards the narrows.  After 12 hours of fishing everyone met up to see who had the best luck.  In the mourning it was Gary Freeman and Matt Hoffert landing in third place with 2 fish at 5.13lbs. Coming in second was Brent Becker and John Hans bringing a limit to the scales weighing 8.72lbs with a big fish of 3.5lbs.  Taking the win this month was new member Matt Lisiewski and Cody Robison landing a solid limit of 11.16lbs and big fish of 3.36lbs.
Congratulations to Matt and Cody for taking the win.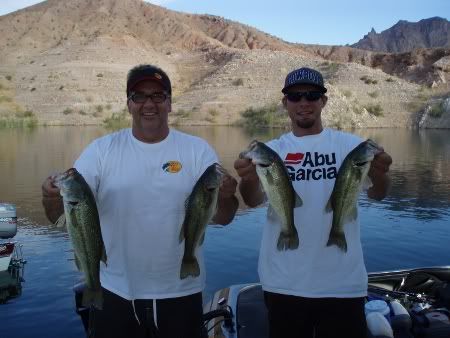 Brent Becker and John Hans showing most of the second place bag.
Here is how the rest of the field finished:
*                         Team                              no. of fish             weight          big fish
1.  Matt Lisiewski and Cody Robison           5                    10.96lbs        3.36lbs
2.  Brent Becker and John Hans                5                     8.72lbs         3.50lbs
3.  Gary Freeman and Matt Hoffert            2                     5.13lbs         3.08lbs
4.  Don Hill and Bob Keck                         2                     3.70lbs         2.97lbs
5.  Toby Robinson and James Cope           2                     3.61lbs
6.  Paul Hemsley and Elliot                       2                      3.23lbs
7.  Doug and Zak Jones                           1                     1.77lbs
8.  Joe Raftery and Alan Zamora                0
Last Updated on Tuesday, 26 July 2011 19:09