Content View Hits : 2190121

Newsflash
All BAF members receive a 10% discount at Pro Tackle.  Check Sponsors section for location. 
| | | | |
| --- | --- | --- | --- |
| JANUARY 7, 2012 TEMPLE BAR, LAKE MEAD | | | |
Written by BAF Admin
Sunday, 08 January 2012 11:24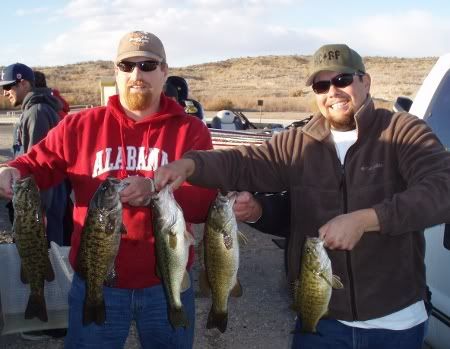 Doug Jones and Matt Hoffert showing off the 11.63lbs winning sack.
Bass Anglers Federation kicked off the 2012 season at Temple Bar, Lake Mead on January 7.  Don Hill launched the 11 teams at 6:20am to clear skies.  The day started at a cool 38 degrees with little to no wind;  warming to the low 60s and 20mph+ winds hitting Temple Bar just before weigh-in.
Taking third place was the team of Jason Randell and James Cope.  The two of them brought 2 fish to the scale for 5.57lbs.
Second place plaques will go to Matt Lisiewski and Alan Zamora.  They fought a faulty trim motor forcing them to stay close to Temple Bar and at the end of the day weighed in 3 fish for 5.89lbs. Matt said  "We had to stay close and worked all the points we could get to and caught all are fish with custom made jigs"
First place money went to Doug Jones and Matt Hoffert, with five keepers and two short fish.  Doug said "We worked points around Temple Bar and some to the North...We fished between 5-15 feet and did not have to 'fizz' any of our fish.  All are fish came on jigs and Texas-rigged worms."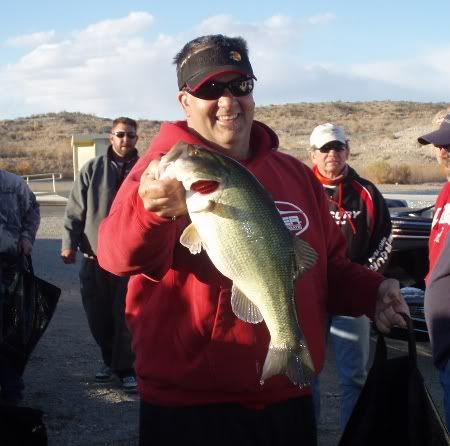 Brent Becker showing the winning big fish a 4.51lb Largemouth.
Congratulation to Doug Jones and Matt Hoffert for a dominating win.
FINAL RESULTS
Team                                                        Weight
1.  Doug Jones and Matt Hoffert                     11.63lbs
2.   Matt Lisiewski and Alan Zamora                    5.89lbs
3.   Jason Randall and James Cope                     5.57lbs
4.   Greg Cyphers and John Hans                       4.93lbs
5.   Matt Warner and Larry Holona                      4.92lbs
6.   Brent Becker and Dominic Amato                    4.51lbs
7.   Gary Freeman and Sam Schiers                     4.12lbs
8.   Toby Robinson and Henryk Grzyb                  4.06lbs
9.   Don Hill and Bob Keck                                  3.21lbs
10. Billy Snyder and Justin Campbell                      0
11. Paul Hemsley and Marco Irneze                       0
Last Updated on Wednesday, 11 January 2012 15:31