Content View Hits : 2190261

Newsflash
All BAF members receive a 10% discount at Pro Tackle.  Check Sponsors section for location. 
| | | | |
| --- | --- | --- | --- |
| FEBRUARY 4, 2012 COTTONWOOD COVE, LAKE MOHAVE | | | |
Written by BAF Admin
Thursday, 09 February 2012 13:44
Doug Jones and James Cope knock everyone's lights out on Lake Mohave with a HUGE 22.19lbs sack.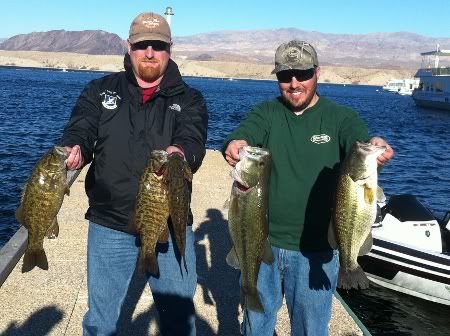 Doug Jones and James Cope show off there Monster Bag.
"I Love Lake Mohave In February." said Brent Becker as we concluded the weigh-in of the February tournament.  A lot of big fish made the scales at the end of the days fishing.  Anglers started the day with 20-25mph wind at launch and light cloud cover.  As the day went on the wind slowed slightly in the late morning and pick up again after noon making Lake Mohave rough to say the least.
Taking third place with 14.47lbs was the team of Greg Cyphers and Henryk Grzyb.  They had a solid bag of all Largemouth Bass.  "Lake Mohave Rocks" said Greg Cyphers
Second place team was Dave Naugle and Marco Irneze.  Dave and Marco brought 5 Largemouth Bass to the scales that went 15.61lbs with a 5.16lb kicker.
Taking the win by a large margin was Doug Jones and James Cope.  The team brought in 22.19lbs of bass, 3 Smallmouth and 2 Largemouth Bass, wth the winning big fish of 7.75lbs.  'We fished steep bluff walls around Cottonwood Cove with hot pink jigs and bubble gum worms texas rigged in 40' to 50' deep." said Doug Jones.  " Most of our bites came while the bait was falling" said James Cope after weigh-in.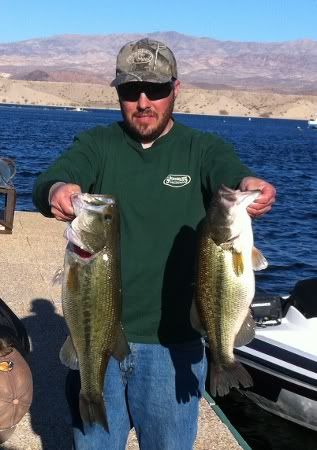 Big fish Winner James Cope with Two Monster Lake Mohave Bass.
Congratulations to Doug Jones and James Cope for Dominating the February tournament.
February Tournament Results
Team                                    no. of fish                     weight                    big fish
1.   Doug Jones and James Cope                     5                             22.19lbs                  7.75lbs
2.   Dave Naugle and Marco Irneze                   5                             15.61lbs                  5.26lbs
3.   Greg Cyphers and Henryk Gryzb                 5                             14.47lbs
4.   Matt Lisiewski and Justin Cambell                5                             13.29lbs
5.   Don Hill                                                        4                             12.24lbs                 5.06lbs
6.   Brent Becker and Bobby Kimbro                4                              11.94lbs                 4.73lbs
7.   Toby Robison and Larry Holona                 3                                9.62lbs                 4.29lbs
8.   Paul Hemsley and Matt Hoffert                  2                              7.10lbs
9.    Kyle Gibson and Elliot                              1                              2.19lbs
Last Updated on Friday, 10 February 2012 18:13