Content View Hits : 2707310

Newsflash
Thanks Adaven Custom Rods.  Greg Cyphers of Adaven Rods can repair you broken rod guides and service and repair any of your reels.  Greg does quality work with a fast turn around give him a call 702-371-4922
| | | | |
| --- | --- | --- | --- |
| JULY 7, 2012 NIGHT TOURNAMENT | | | |
Written by BAF Admin
Tuesday, 10 July 2012 17:46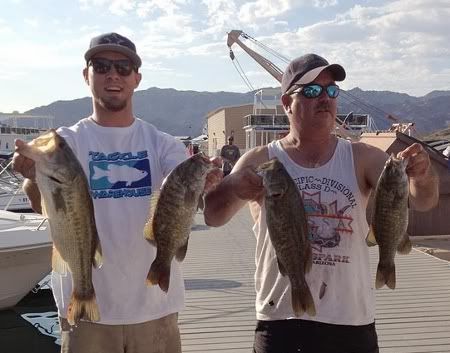 Gary Freeman and John Hans showing off there winning bass.
Bass Anglers Federation held our July Tournament from Callville Bay.  Ten boats launched at 7pm and met back at 7am to weigh in.  Competitors set out to 115 degree temperatures and light wind.  The weather held out all night with light wind and calm conditions lasting till weigh in.
Taking third place was points leader Doug Jones and Randall Bruce bringing in a weight of 11.28lbs.  Randall brought in a 5.83lbs winning big fish.
"We landed the big fish around midnight on a long shallow point near Temple Bar on a Texas Rigged power worm." commented Randell at the weigh in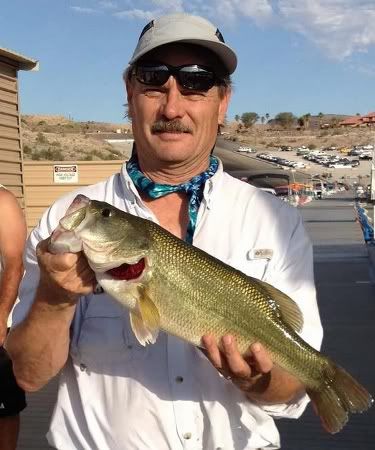 Randall Bruce winning Big Fish of 5.83lbs
Second place team was Rob Jeanotte and Larry Holona coming in with 11.38lbs after a .2 lb dead fish penalty.  Rob is new to the club and showed he can catch fish.
Taking the top spot was Gary Freeman and John Hans with 11.90lbs with a big fish of 4.10lbs.   John and Gary fished Spinner baits
in the backs of coves and spent most of the night in the Las Vegas Wash.
Congratulations to Gary Freeman and John Hans for taking the win at the July Night tournament.
Complete results:
Team                                      # of Fish          Weight         Big Fish
1.  Gary Freeman and John Hans                 5               11.90lbs        4.10lbs
2.  Rob Jeanotte and Larry Holona               5              11.38lbs          dnw        -.20lb
3.  Doug Jones and Randall Bruce                5              11.28lbs         5.83lbs
4.  Dave Hudson and Sam Schiers               5               10.48lbs           dnw
5.  Billy Snyder and James Cope                  5               10.29lbs           dnw
6.  Dave Naugle and Ellison Hubbert           5                 9.61lbs            dnw
7.  Brent (bubba) Becker and Deejay          5                 8.83lbs            dnw
8.  Paul Hemsley and Matt Hoffert               5                 8.37lbs            dnw
9.  Tim Myers and                                        3                 5.26lbs            2.86lbs
10. Alan Zamora and Henryk Grzyb             2                 4.09lbs             dnw
Last Updated on Tuesday, 10 July 2012 18:26