Content View Hits : 2707291

Newsflash
All BAF members receive a 10% discount at Pro Tackle.  Check Sponsors section for location. 
Monday, 07 January 2013 16:52
Kieth Van Reil and Larry Holona weighed in 12.92lbs  to take the WIN...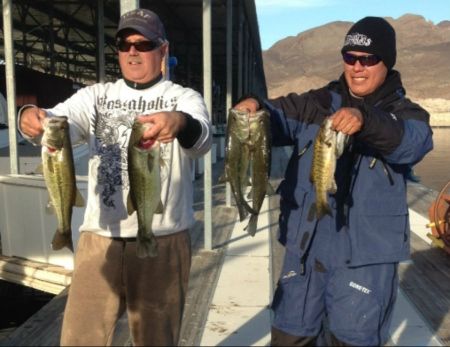 Gary Freeman and Ellison Hubbert weighed in 11.01 to take second place.
It was a crisp Saturday morning and the weather cooperated with temperatures in the 30's at the start of the day.  Ten boats showed for the start of the 2013 season.  Calville Bay was selected for the first tourney and with the water temps in the high 50's, it was thought to be a day of grinding out five fish.  At the start, boats went in every direction and, without wind, the whole lake was available.  At the weigh in, we were short one boat and learned Dave Hudson and Rusty Ruby had engine failure.  Limping back to Calville from Temple Bar, Dave and Rusty failed to make it in time to weigh in two fish.  We got word that they made it through the narrows at the conclusion of weigh in, and showing exceptional leadership skills, our newly appointed president, Doug Jones, raced out to tow them in as the sun quickly set.  Landing in third place with 9.57 lbs. was Toby and Meek with a nice 4.7 lb. largemouth.  Gary and Ellison came in second with 11.01 lbs.  And, winning the second tourney in a row with a big fish of 5.15 lbs. and 12.92 lbs. total was Keith and Larry.  Congratulations to Keith and Larry.  Keith, a.k.a. KVR, said that his boat sat for 10 months before he came out to fish our December tournament.  Winning two tournaments in a row with solid kicker fish after that long of a layoff is paramount. So expect to see him fish like he's got a target on his back this year.  A special thanks to Paul and Zach Holt for being the launch boat and weigh masters.   Expect to see a lot of new faces this year and let's all do our part to help those new to our club experience a great day on the water.  Welcome to 2013 with the Bass Anglers Federation.
Boater             Non                     Total         Big Fish
1. Keith Van Reil     Larry Holona            12.92        5.15
2. Gary Freeman    Ellison Hubbert         11.01        2.60
3. Toby Robinson   Meek                      9.57          4.70
4. Doug Jones       Steve                      7.02
5. Don Hill             Randall Bruce            6.45
6. Paul Hemsley     Dominic Amato          4.26
7. Rob Jeannotte    Bob Keck                 3.2
8. Jim Shorts         Nick McB                  DNW
9. Dave Hudson     Rusty Ruby              DNW
10. Paul Holt           Zach Holt                 1.6
Last Updated on Tuesday, 08 January 2013 19:29