Content View Hits : 2707302

Newsflash
Thanks Adaven Custom Rods.  Greg Cyphers of Adaven Rods can repair you broken rod guides and service and repair any of your reels.  Greg does quality work with a fast turn around give him a call 702-371-4922
| | | | |
| --- | --- | --- | --- |
| MARCH 9, 2013 TEMPLE BAR LAKE MEAD | | | |
Written by BAF Admin
Monday, 11 March 2013 18:20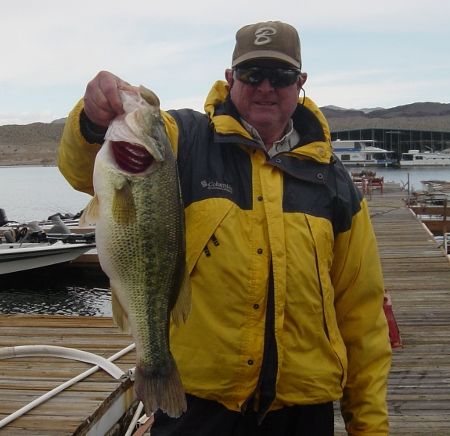 Rick Powers shows his 7.47lb Largemouth Bass.  Rick and his son Richard weighed in 15.93lbs of Lake Mead Bass.
Bass Anglers Federation met at Temple Bar Marina Saturday March 8th to hold the third tournament of the 2013 season.  After a week out solid weather with water temps on the rise angles anticipated some spawning activity. That expectation was shoot down when a cold front moved though the Lake Mead area lowering temperatures and rain all day Friday. Saturday mourning anglers launched to low 40 degree temperatures and cloudy skies and light wind.
Third place was the team of Kieth Van Riel and new member Zach Holt weighing in 4 bass at 9.63lbs.
Second place team of Paul Hemsley and Deejay Evans show 4 of the 5 bass limit of 12.07lbs.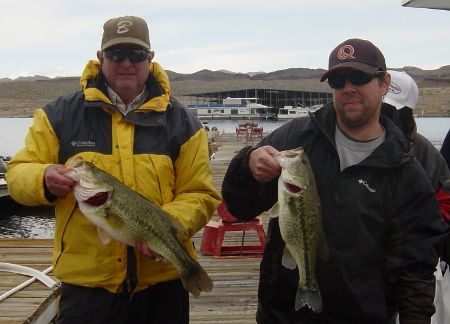 Winning team of Rick and Richard Powers show their 2 best bass.
FULL RESULTS
1.  Richard and Rick Powers                      5         15.93lbs      7.44lb
2.  Paul Hemsley and Deejay Evans            5         12.07lbs      4.21lbs
3.  Keith Van Riel and Zach Holt                4         9.63lbs
4.  Don Hill and Matt Durahm                    3         8.07lbs       3.62lbs
5.  Gary Freeman and Bob Keck                4         7.91lbs
6.  Dominic Amato and Henryk Grybz         3         6.48lbs
7.  Billy Snyder and Steve Reed                3         5.93lbs
8.  Toby Robinson and Randall Bruce         1         3.31lbs
9.  Paul Holt and Ray                               0
Last Updated on Monday, 11 March 2013 19:12