Content View Hits : 2190092

Newsflash
All BAF members receive a 10% discount at Pro Tackle.  Check Sponsors section for location. 
| | | | |
| --- | --- | --- | --- |
| APRIL 27, 2013 COTTONWOOD COVE, LAKE MOHAVE | | | |
Written by BAF Admin
Saturday, 04 May 2013 08:00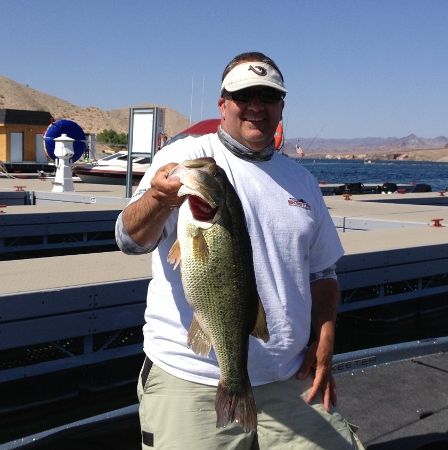 Brent Becker shows off his 7.57lb winning Big Fish.
Bass Anglers Federation held our April Tournament at Cottonwood Cove.  Ten teams showed up to fish a near perfect day on Lake Mohave.  Anglers launched around 5:30am to little to zero wind most teams making a left turn heading North.
Lake Mohave is known for wind and Big waves,  not so on this day.  The wind stayed away until 11:00am  with only a 5 to 10 mph breeze and temperatures in the mid 80's.
After a beautiful day on Lake Mohave Anglers met for the weigh-in. Talk at the dock was about Great fishing and Lots of fish being caught.
Taking third place was the Team of James Cope and Zach Holt. They noted catching fish all day with the best Five weighing 15.49lbs.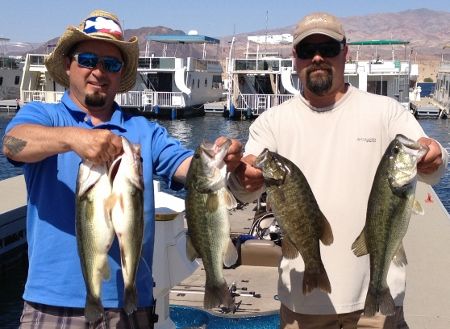 Second place Team was Toby Robinson and Larry Holona with a total weight of 18.68lbs with a 5.22lb largemouth bass kicker. Toby said "We went north to Willow Beach and worked our way back Dropshoting the step cliffs." "we had our limit by 8am and culled from there."  "We caught our biggest fish around 2 on a zora spook."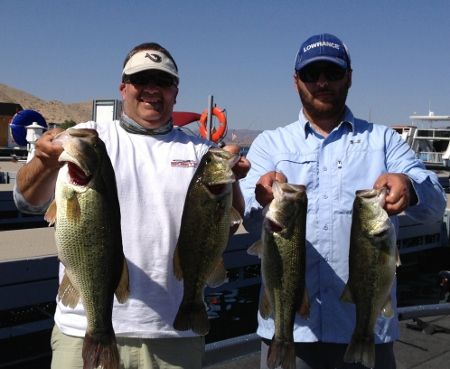 Taking the win was Brent Becker and Matt Durham with massive sack of 20.16lbs with the winning Big Fish of 7.57lbs.  "Our day started of good, we had our limit by 7:30am." Brent noted " We stayed around Cottonwood jumping from cove to cove covering a lot of water." "Our Big Fish came late in the day on a spinnerbait" He added  " I make my own spinnerbaits and if felt great to catch a Toad on a Bait I made"
Congratulations to Brent Becker and Matt Durham for taking the win at Lake Mohave with an outstanding weight of 20.16lbs
Brent also won big fish with a 7.57lb Donkey....
1.   Brent Becker and Matt Durham               5        20.16lbs       7.57lbs
2.   Toby Robinson and Larry Holona             5        18.69lbs       5.22lbs
3.   James Cope and Zach Holt                      5         15.49lbs       dnw
4.   Anthony Salazar and Ellison Hubbert      5         15.19lbs        dnw
5.   Paul Hemsley and Bob Keck                    5          14.99lbs       4.51lbs
6.   Kieth Van Reil   and Deejay Evans           5         14.36lbs        dnw
7.   Paul Holt and Randell Bruce                     5         13.52lbs        dnw
8.   Gary Freeman and Dallas                         5         13.11lbs        dnw
9.   Alan Zamora and Henryk Grybz                5         13.02lbs        dnw
10. Matt Lisiewski and Stave Reed                 5         12.67lbs        dnw
Last Updated on Saturday, 04 May 2013 08:55