Content View Hits : 2190205

Newsflash
All BAF members receive a 10% discount at Pro Tackle.  Check Sponsors section for location. 
| | | | |
| --- | --- | --- | --- |
| MAY 11, 2013 CALLVILLE BA...ER, UH, I MEAN ECHO BAY | | | |
Thursday, 16 May 2013 16:25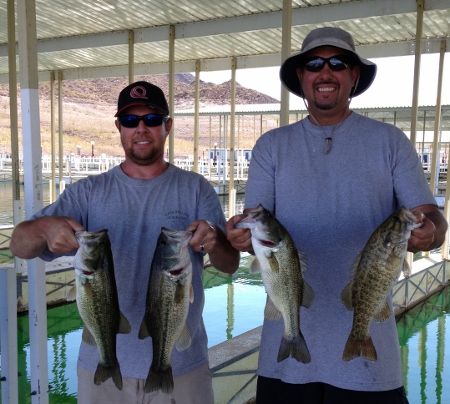 Congratulations to Richard Powers and Deejay Evens For taking the win
Brent Becker showing off the winning Big Fish
Alan Zamora and Larry Holona show us there second place fish.
The Bass Federation held its May tournament at Lake Mead with a bit of confusion.  The scheduled event at Callville was moved due to a permit mix up and put us at launch with another local bass club.  Despite the crowd, it was a pretty stellar day on Lake Mead.  Calm waters, a slight breeze, and our first double digit above water temperature for the year led to a ton of fish caught.  In typical late spring time fashion, fish were caught all over in a variety of ways.  In the backs of cuts, on beds, and out on the points and secondary points with topwater, reaction, and finesse baits.  But, from the sounds of it, keeper fish were a little more harder to come by.  We were all spoiled by the awesome months of March and April and the 8 teams with over 10 pounds were probably scrambling for one kicker fish thinking it would take a possible 20 lb sack to win.  As it turns out, 11.82, brought in by the team of Richard Powers and Deejay Evans, was enough to take the victory.  Congrats, bros!  Here's the breakdown.  Total fish per team was not recorded.
Total weight Big Fish
1.  Bass Powers and Deejay Evans               11.82                       3.61
2.  Alan Zamora and Larry Holona                11.74                       3.66
3.  Bubba Becker                                      11.62                       4.30
4. Gary Freeman and Zach Holt                   10.89                       DNW
5. Keith Van Reil and Matt Durham               10.83                      DNW
6. Anthony Salazar and Randall Bruce            10.63                      DNW
7. Rob Jeanotte and Dallas                          10.13                      3.39
8. Don Hill and Henryk Grybz                        10.08                      4.16
9. Ray Coble and James Salazar                      9.74                       DNW
10.  Toby Robinson and Steve Reed                9.49                      3.37
11.  Dominic Amato and Ellison Hubbert            7.82                      DNW
12.  Paul Hemsley and Jerron Slaton                 6.70                      DNW
13.  Jim Shorts and Bob Keck                          4.49                      DNW
14. Paul Holt and Kevin Aiken                          4.45                      DNW
15. Rick Pfeffer and Luke Vierkent                   4.21                      DNW
Last Updated on Sunday, 19 May 2013 12:26