Content View Hits : 2190236

Newsflash
All BAF members receive a 10% discount at Pro Tackle.  Check Sponsors section for location. 
| | | | |
| --- | --- | --- | --- |
| June 8, 2013 Cottonwood Cove, Lake Mohave | | | |
Monday, 10 June 2013 16:35
The Bass Angler's Federation launched 13 boats at safe light Saturday to predicted wind and an extremely hot June day.  85 degree water temps and 115 degree above water temps didn't seem to take anyone out of their game.  Lucky for all, the wind never got nasty and was barely a factor.  In fact, the stiff breeze was a blessing for all braving a stifling hot tournament day.  There are only 3 points tournaments left and with AOY on the minds of boaters and non-boaters in contention, Mohave looked like it might be the chance to break away.  As it usually goes, Lake Mohave was not kind to all.  One team was disqualified for bringing in 1 bass over the 5 fish limit, and another team broke down shortly after launch.  Here's the breakdown.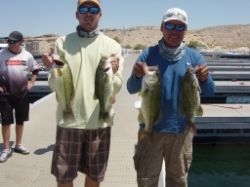 Congrats to Matt La-Chev-Ski and Ellison Hubbard taking the win with 14.23lbs!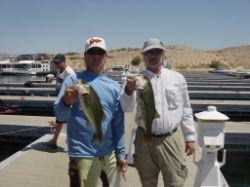 Tim Meyers and Randall "The" Bruce showing off 2 of their 14.06lb bag.
Jiggin' Jim Shorts and Dave Naugle get 3rd with 13.92lbs.  Like everyone else, they can't shake Toby Robinson.
The Godfather and a 5.02lb Big Fish!
1. Matt Lisiewski and Ellison Hubbard       5          14.23        4.58
2. Tim Meyers and Randall Bruce             5          14.06        4.21
3. James Cope and Dave Naugle             5          13.93        4.59
4. Gary Freeman and Bob Keck               5          13.90        DNW
5. Dominic Amato and Zach Holt             5          13.59        4.23
6. KVR and Larry Holona                        5          12.78        DNW
7. Bubba Becker and Dallas                    5          12.56        3.45
8. Matt Durham and Rick Pfeffer             5          11.43        3.68
9. Paul Hemlock and Deejay Evans          5          11.04        5.02  BF
10. Toby Robinson and Billy Snyder          5          10.75        4.28
11. Richard Powers and Rick Powers         5          7.15        DNW
12. Paul Holt and Henry Grzyb                  DNW
13. Ray Coble and Kevin Aiken                  DQ
Last Updated on Tuesday, 19 August 2014 18:46