Content View Hits : 2281228

Newsflash
All BAF members receive a 10% discount at Pro Tackle.  Check Sponsors section for location. 
| | | | |
| --- | --- | --- | --- |
| Temple Bar September 21, 2013 | | | |
Tuesday, 24 September 2013 16:14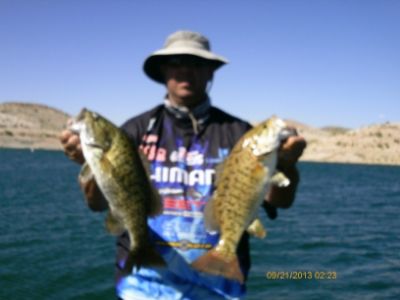 Bass Angler's Federation launch out of Temple Bar this weekend kicked off without a hitch.  The return back for weigh-in was a different matter, all together.  There was much anticipation for a few anglers in our seasons final points tourney of the year.  Those not in contention had something else on their mind.  Wind!  A wind advisory cautioned 40-50 mph gusts which got all the chatter going on the forum.  It was settled that a decision would be made on the ramp.  All 11 boats showed up ready to fish, so it was on!  A majority of the the boats went right with just a few headed left.  At the end of it all, 2 boats were hurt during the day.  Jim Shorts sheared a blade off his prop.  Luckily, KVR stopped to help and ended up giving his partner, Luke, and their 5 fish a ride back to weigh-in.  It was a good thing, too.  Luke ended up with big fish of the day with a 3.83 largemouth!  Paul Hemsley's boat went in the safe-mode as they made their way back.  Showing up 30 minutes late nullified their 5 fish limit.  The penalty is one pound per minute and a disqualification after 15 minutes.  Tough break, boys.  It's hard to say if wind was a factor in either of these incidents because the wind never got as nasty as predicted until after everyone was safely off the water.  This was the final points tournament for Angler of the Year.  Keith Van Riel had a 12 point lead on Gary Freeman and finished in 6th place to win AOY by 15 points.  Congrats to Keith, your 2013 Angler of the Year on the boaters side.  On the Co Angler side, Larry Holona started the day with a 7 point lead with Deejay Evans right on his heels.  The way the last few tournaments ended, its was sure to be a super close finish.  Deejay did exactly what needed to be done to take the AOY honors.  According to his partner for the day, Tim Myers, Deejay caught all the fish they brought to the scales.  With 10.18lbs total, including a solid 3.42 big fish, Tim and Deejay bested a field of 11 teams to take the overall win.  That gave him a come from behind win by 4 points for AOY.  Congrats, Godfather!  Here's how it all panned out.
Team                                         Big Fish     Total Fish          Total Weight
1. Tim Myers and Deejay Evans           3.42           5                       10.18
2. Humberto and Ellison Hubbard                         5                       8.84
3. James Cope and Luke Vierkant (BF)  3.83           5                       8.46
4. Don Hill and Dominic Amato                            5                       8.22
5. Ray Coble and Rick Pfeiffer                              5                       6.80
6. Keith Van Riel and Randall Bruce                      4                       6.49
7. Toby Robinson and Zach Holt                          5                       6.45
8. Paul Holt and Kevin Aiken                               3                       4.37
9. Gary Freeman and Larry Holona                       3                        4.29
10. Alan Zamora and Dallas                                 2                        4.25
11. Paul Hemsley and Todd Cowan                       DNW
Last Updated on Tuesday, 01 October 2013 01:50