Content View Hits : 2281199

Newsflash
Thanks Adaven Custom Rods.  Greg Cyphers of Adaven Rods can repair you broken rod guides and service and repair any of your reels.  Greg does quality work with a fast turn around give him a call 702-371-4922
Tuesday, 03 December 2013 18:03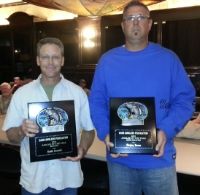 Your 2013 B.A.F. Angler of the Year Boater is Keith "KVR" VanRiel.  Keith started the season off with a bang in January with a 1st place finish plus big fish at 5.15lbs.  Before the points season started, Keith had an impressive December big fish for 6.14lbs and him and his partner won the event with an astounding 15.08 lbs.  Prior to these two consecutive wins, Keith had parked his boat for over 10 months!  In a best 7 out of 9 format, Keith managed 1 win and 5 top 5 finishes.  That's a solid performance, Keith, and we all congratulate you.
Your 2013 B.A.F. Angler of the Year on the non-boater side is Deejay "The Godfather" Evans.  Deejay had a pretty stellar year from the back of the boat.  He missed the January tournament, so, that's one throw away.  Deejay started his year off in February with a 2nd place finish and followed that with another 2nd place finish.  Starting the year of with a DNF really sucks.  Unless your worst finish out of the 8 remaining tournaments is 9th.  The Godfather put on a come from behind show.  He had 2 wins, 3 second place finishes, a 3rd and a 6th (not exactly in that order).  In June, Deejay had big fish with a 5.02 on Mohave.  Congratulations, Deejay, on a great season.
Big Fish of the year honors go to Brent "Bubba" Becker.  Brent caught a nice largemouth on Lake Mohave that weighed in at 7.57lbs one month after the bar was set by Rick Powers at Temple Bar.  Rick's big fish was 7.44lbs.  Sorry 'bout your luck, Rick!
The biggest weight of the 2013 season was 20.16lbs caught by Bubba Becker and Matt Durham in April at Lake Mohave.
A special thanks to Pam and Rick Powers of Blue Ribbon Trophies.  Thank you for your continued support.  When we fish, we don't expect to quit our jobs if we take the purse.  The plaques and trophies make us feel like we all could, though.  Thank you.
Congrats to all.  It was a fun and safe season.  January 2014 is right around the corner.